These days, I'm not usually out there photographing lots of sports. Today though I got a chance to document a bit at the Hammer Man Triathlon in Chase, MD. You may be wondering, wait Marlayna, why did you get up at 6am and hang out in the cool fall morning weather at this race??? ….well, let's just say.. the things we do for our loves ;)
This morning, Adam completed his 5th triathlon! Well, unfortunately thanks to hurricane Irene polluting the Gunpowder's water, it was technically a 'du-athlon' – starting with 1.5 mile run, then a 13mi bike, ending with a 5k run.  Sounds like fun right?! haha, I can't imagine doing all that running, but that's Adam for you – running like a "windshield wiper blade" as one of the competitors told him during the run :P
So the only thing about being a spectator is that other than when they come through the central hub/transition area, there's a lot of downtime when you don't see the competitors. So what does this mean to me? Time to explore the park and the awesome view of the water and take photos! lol, typical me right?
[portfolio_slideshow]
Oh yeah, how cool is it that his number was 1 by the way??
After the race (I'm kinda obsessed with this portrait!):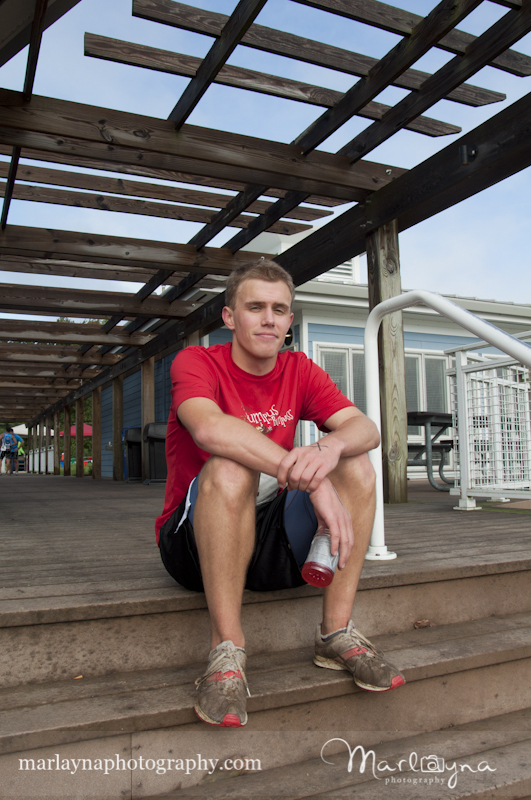 I have to say, it was really impressive to see (this was my first time spectating/cheering). He finished the 1.5mi at 10 minutes, the bike by 57 minutes, and the whole race at 1 hour, 18minutes. …dang. haha Oh and that time was only 15 minutes after the 1st place competitor! (He placed 16th out of 89!) okay okay, I'll stop bragging, but I'm so proud of you Adam :)