Hey! So for those of you that haven't seen on my facebook page yet,  I'm offering a Holiday Session & Card Special! (By the way, did I mention it's my birthday today? So you should totally take the opportunity to give me this free birthday gift by liking the page so you can see all the updates—right herrrre! :) )
The Holidays are sneaking up so fast already, so for those of you that want an on location or in-home session with your family PLUS cards to send out to the rest of the family & friends, this package is perfect! I've had some fun lately trying my luck at designing some Holiday Cards & I really love doing it. There are so many options and styles to choose from with the holiday cards, and I would love to design something that really shows off your family and your family's style. So if you see something you like, but want to tweak it – let me know and I will customize away! Check out the link here to see the design template gallery I have been working on so far!
Alrighty – on to the nitty gritty details!!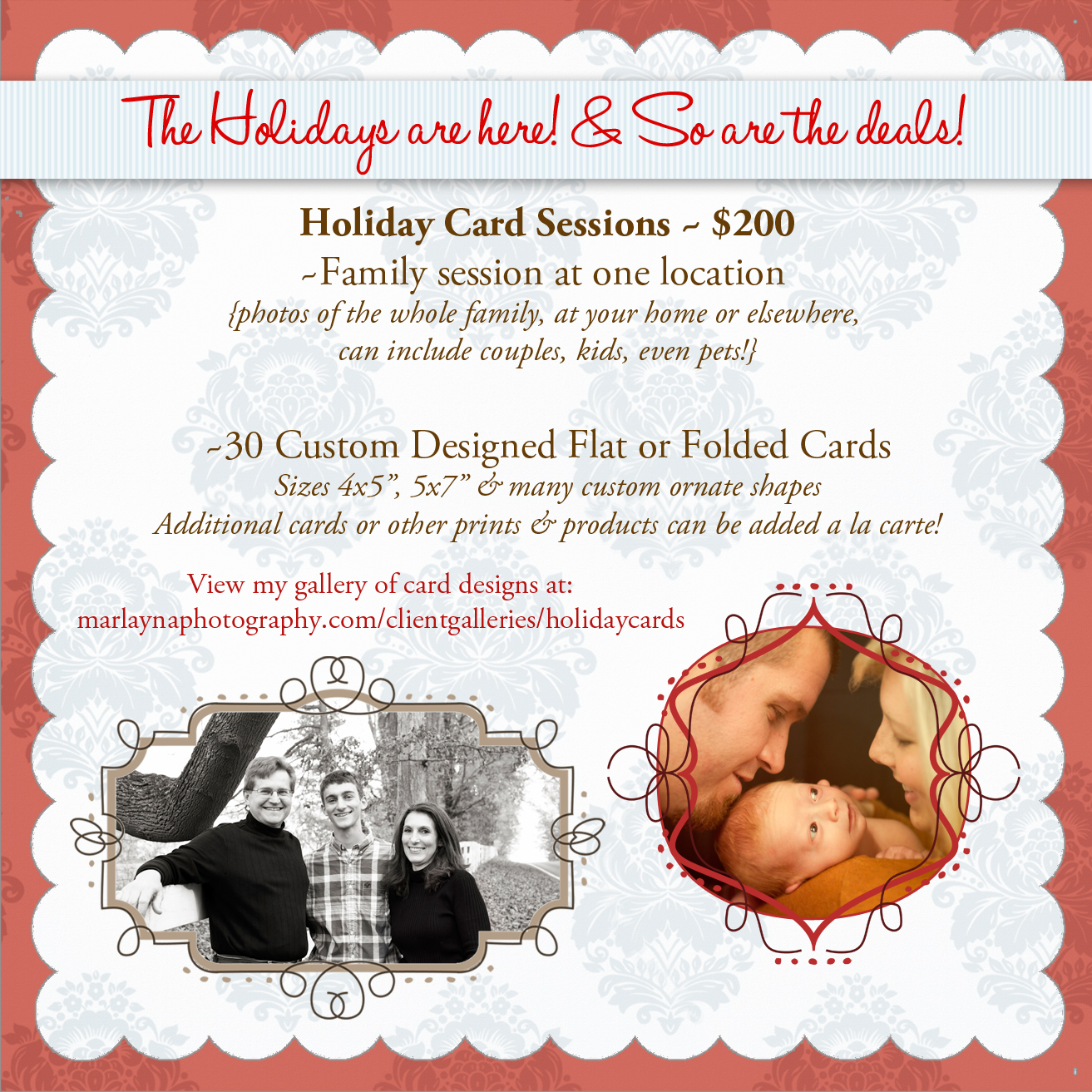 *By the way, I should have added that all sessions include an online gallery of images so you can preview and choose the photos for the cards or any prints. You can also purchase DVDs of all the images from the session, or just individual files! :)
Because it does take some time to edit and create your cards (& you need time to send them out!), sessions for this special have to be booked for DECEMBER 16, 2011 or earlier!
Also, in keeping up with the holiday deals theme – for any photographers interested, check out the amazing deal going on at Laura Winslow Photography. She's actually out in Arizona so thank goodness for the internet so that we can take advantage of the giveaway :)
Last thing – hopefully tonight or tomorrow I'll be sharing Brandon's Senior Portrait photos, so look for those soon!