Yayoi Kusama's Infinity Mirrors & Cherry Blossoms | DC Day Trip
After hearing about the Kusama Infinity Mirrors at the Hirshhorn a few weeks ago, I started trying to reserve tickets for Adam and I to go. If you haven't heard or seen posts about this exhibit yet, just know that it's such a popular visit that the free tickets to reserve a time have been 'selling' out within about 2 minutes.. each week. It's a little insane!! After two weeks of trying to reserve passes, we decided we'd just go down to DC no matter what, try our luck, and if nothing else, walk around and see the cherry blossoms.
The Hirshhorn releases many same-day passes in addition to the online reservable ones, but it can be a gamble. I read a lot of tips about visiting the exhibition online that mentioned people lining up as early as 7:30am (even though the Hirshhorn's site says the line begins at 9:30!). So I convinced Adam we should give it a try since we were going down on Tuesday anyway. SO many things felt like they were going against us.. we were slow moving in the morning (hey we're not morning people!), it was thunderstorming the whole drive down to the metro, and by the time we got in line at the Hirshhorn for the passes, it was 9:50am and there were probably at least 200 people in front of us! Being dramatic as I am, I basically decided we were doomed. But despite both our skepticism, we decided we'd try to wait it out.. until at least 11am. Well… 11:34am I snapped a pic of our passes!!! WE WERE GOING TO GET TO SEE IT! Not only that, but the weather improved too – the sun came out and it warmed up – just in time for us to check out the Cherry Blossoms after leaving. All that said.. it was a whirlwind experience like no other, but holy crap we were rewarded with an amazing day.
…
So.. after posting on Instagram about our adventures, I realized I wanted to post a few tips (plus a million photos, duh), about visiting Infinity Mirrors! Before we went, I found a handful of sites with some great tips (like this one and this one) & figured I'd share what we learned from the experience in case it helps anyone else thinking of going!! :) Which by the way, you definitely should!!
1 If you're lucky enough to reserve tickets, you're already ahead of the game! :)
The passes are FREE (the Hirshhorn is always free – yay!), but you have to reserve a time no matter what. Passes become available every Monday at noon for the following week. This option is really only going to work if you're able to be super flexible. I wouldn't strive for a weekend, and you'll want to select "first available" for your time to ensure a better chance. All that said.. I tried for two weeks and missed it both times! I had even selected our passes the second time, but while it was loading in my "cart" the tickets disappeared somehow. Not fun!
2. So.. if you're going to walk-up.. going on a Tuesday or Wednesday seem to best
I wouldn't recommend a weekend unless you want to start the line at 5am! ;) But the earlier you can get there the better, and they just extended hours on Wednesdays which means more available tickets = better chance of getting in! Even with waiting for the walk-up passes, you still actually pick your time of entry. I think this is just to stagger how many people are inside at once, BUT you don't have to see it all in just 15 minutes (actually there's pretty much no way unless you're the first ones there!).
3. Get comfortable with crowds
Yes, there is a long line to get the passes. Yes, there are lines literally everywhere else too. (extra tip: take photos of the wall plaques so you can read about the next room as you loop around the line..). Also you don't have to go to each room in order! Try to look for which ones have the shortest lines first. & I will say they move relatively fast though, because…
4. You get 20-30 second in the main enclosed infinity mirror rooms
Yup. It's not long enough!! We actually stood in line for "Aftermath" twice because we liked it so much. I wish we could have stayed for 20 minutes!
5. Try to go in groups of 2-3 people
It's actually best to go as a group of 2 or 3, because that's how many are allowed into each room at a time for the most part. But if you do end up with a stranger, I guess at least it's only 20-30 seconds! haha
6. Yes, you can totally take photos (and SHOULD) but…
Try to remember to take them quickly and put the phone down. 30 seconds goes by way too fast and I promise you really want to experience these rooms as much as possible. You're not limited to just your phone and can take cameras in too, but I didn't feel like dealing with the bulk (they do ask you to leave any large bags and jackets outside the rooms to protect the art).
7. Enjoy!
Because seriously, this is an exhibit like no other (psst it's only here til May 14th). And be sure to check out the rest of her artwork throughout the gallery as well. AND if you have extra time (even though there are just 5 rooms total, we were still there for close to 3 hours!), you should definitely tour the rest of the Hirshhorn as well. We had a chance to walk through last year and there are so many cool pieces to check out in addition to this incredible work!
So here's our Tuesday in a nutshell… <3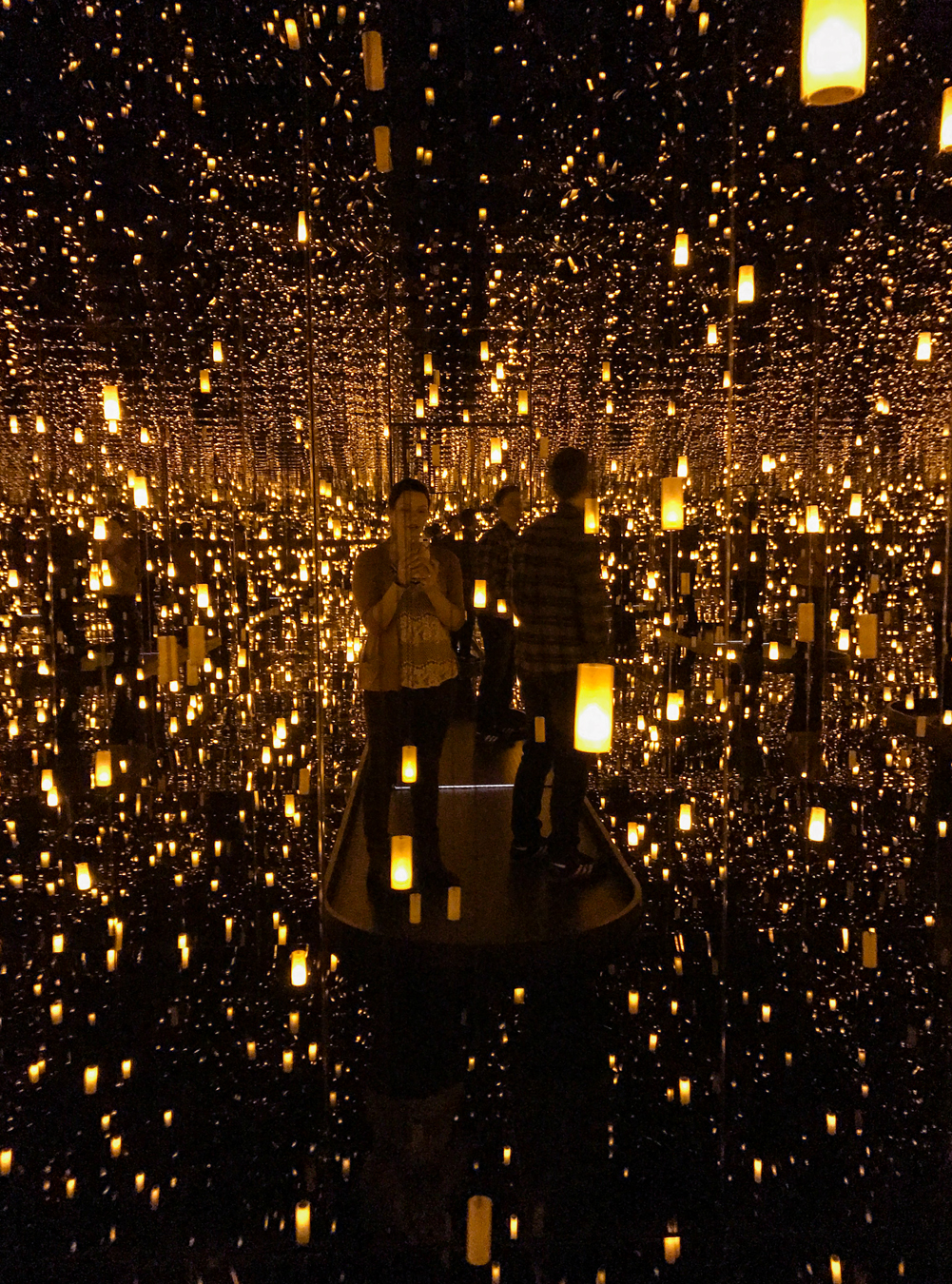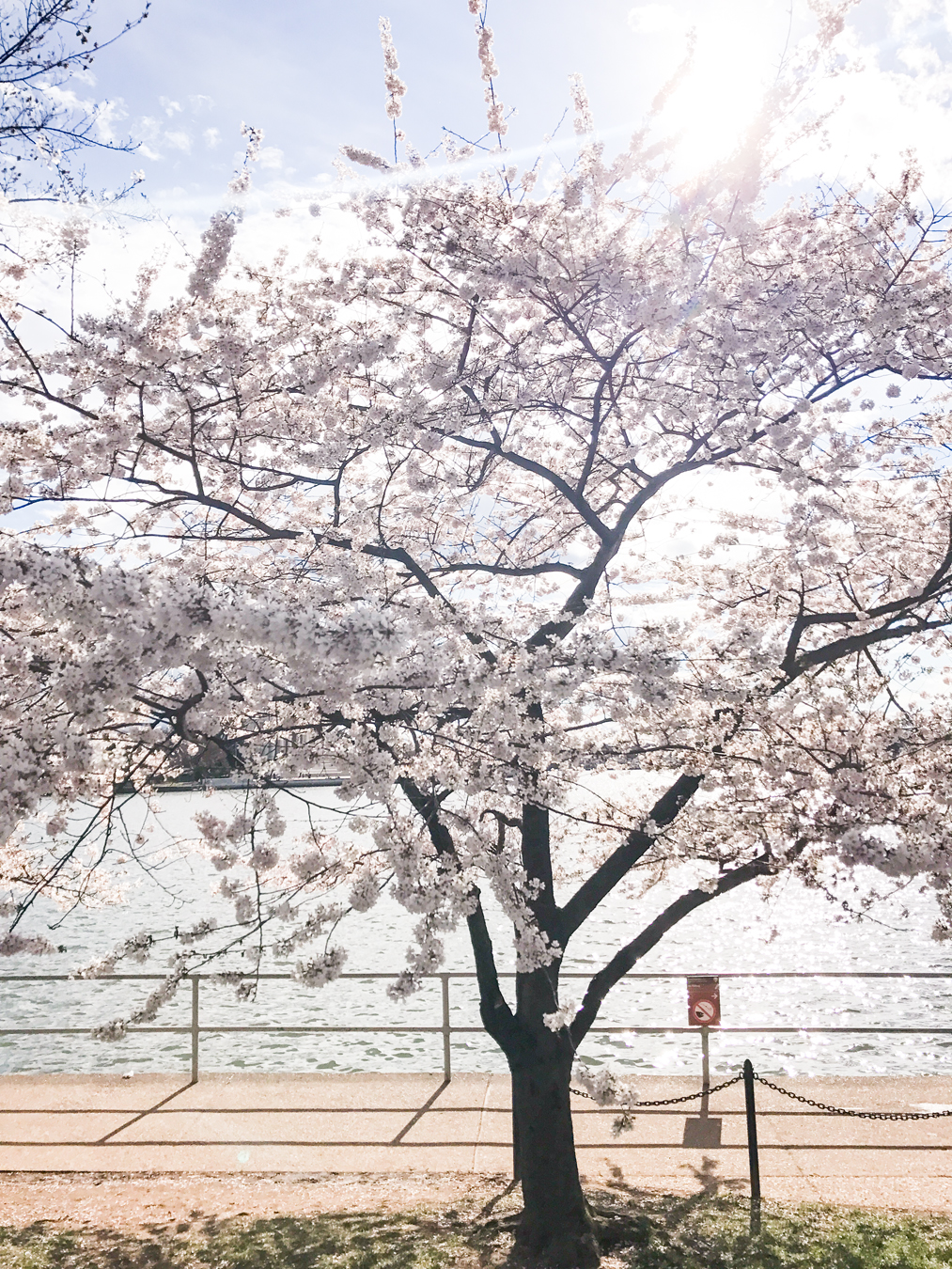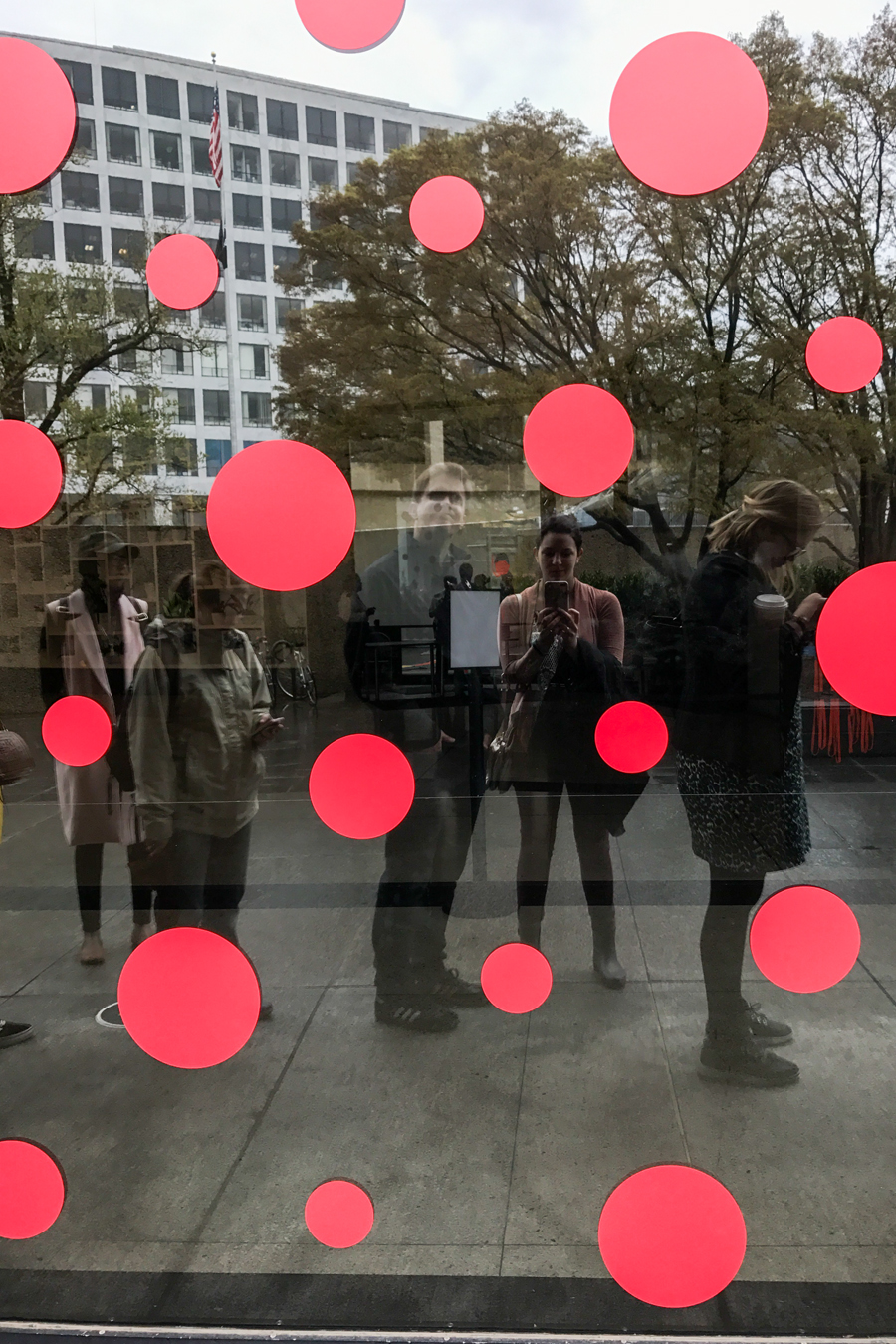 Just in case we didn't make it in, at least there were some dots outside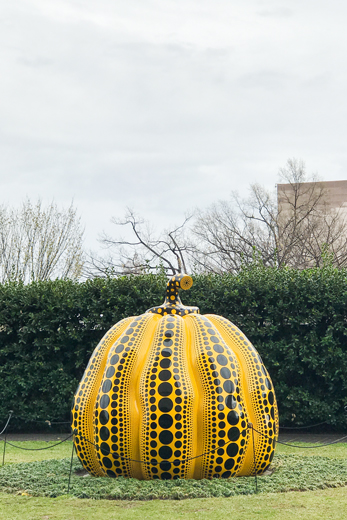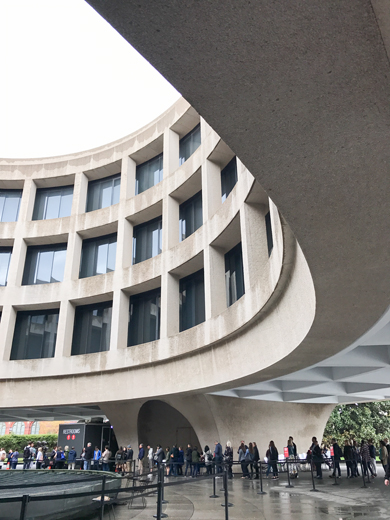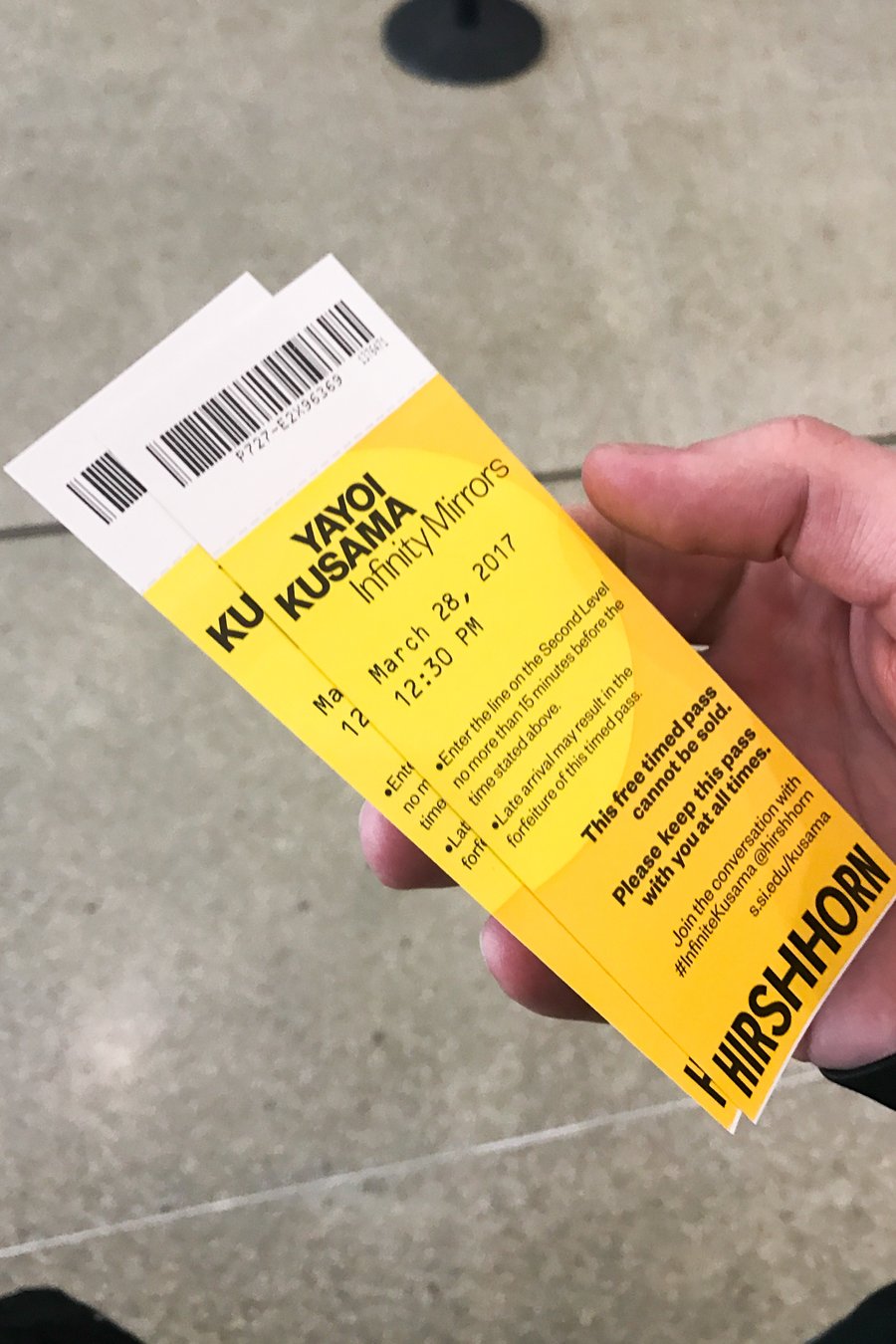 Moment of pure happiness!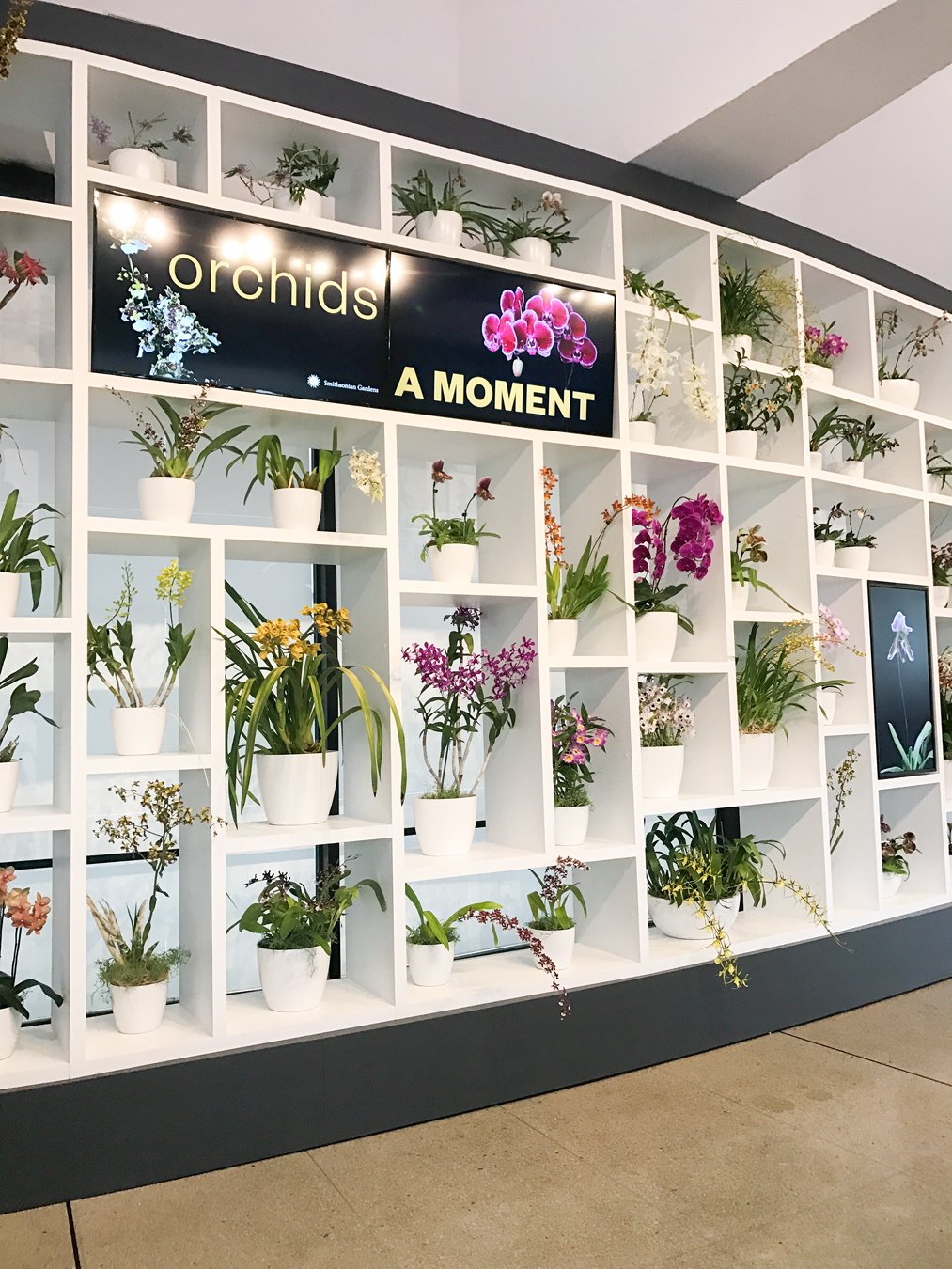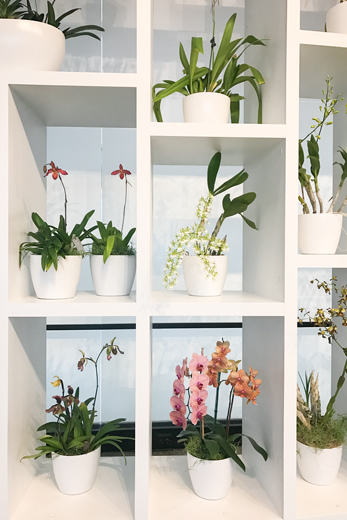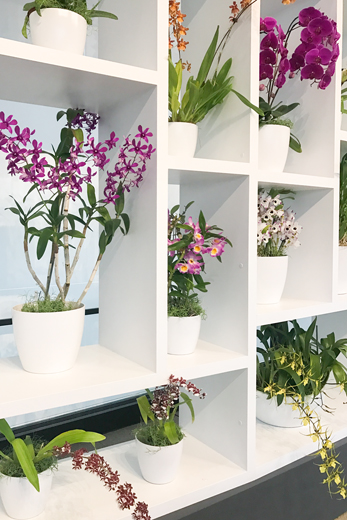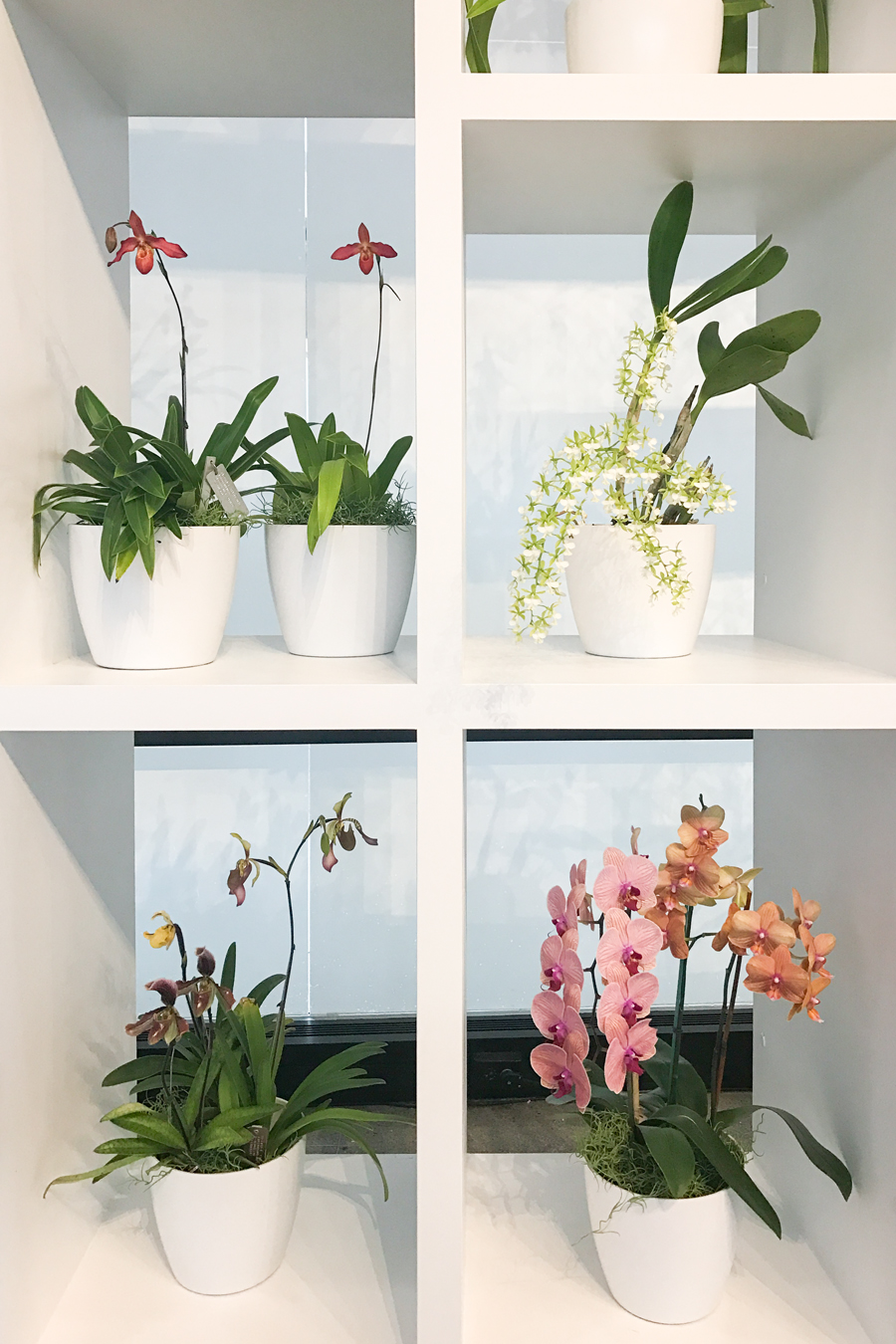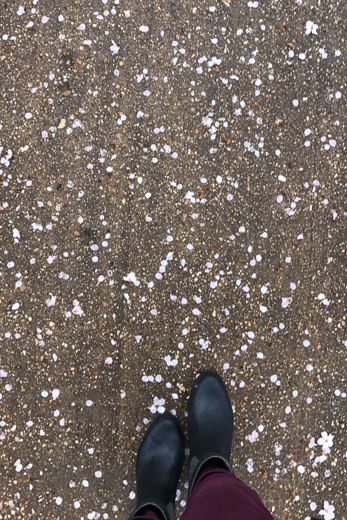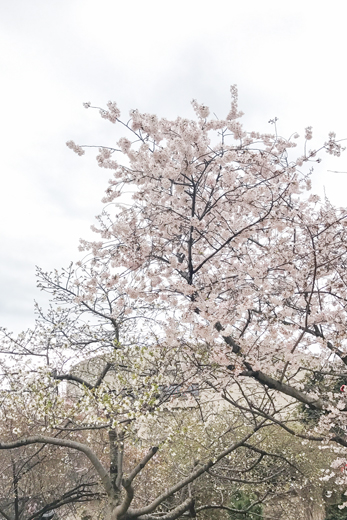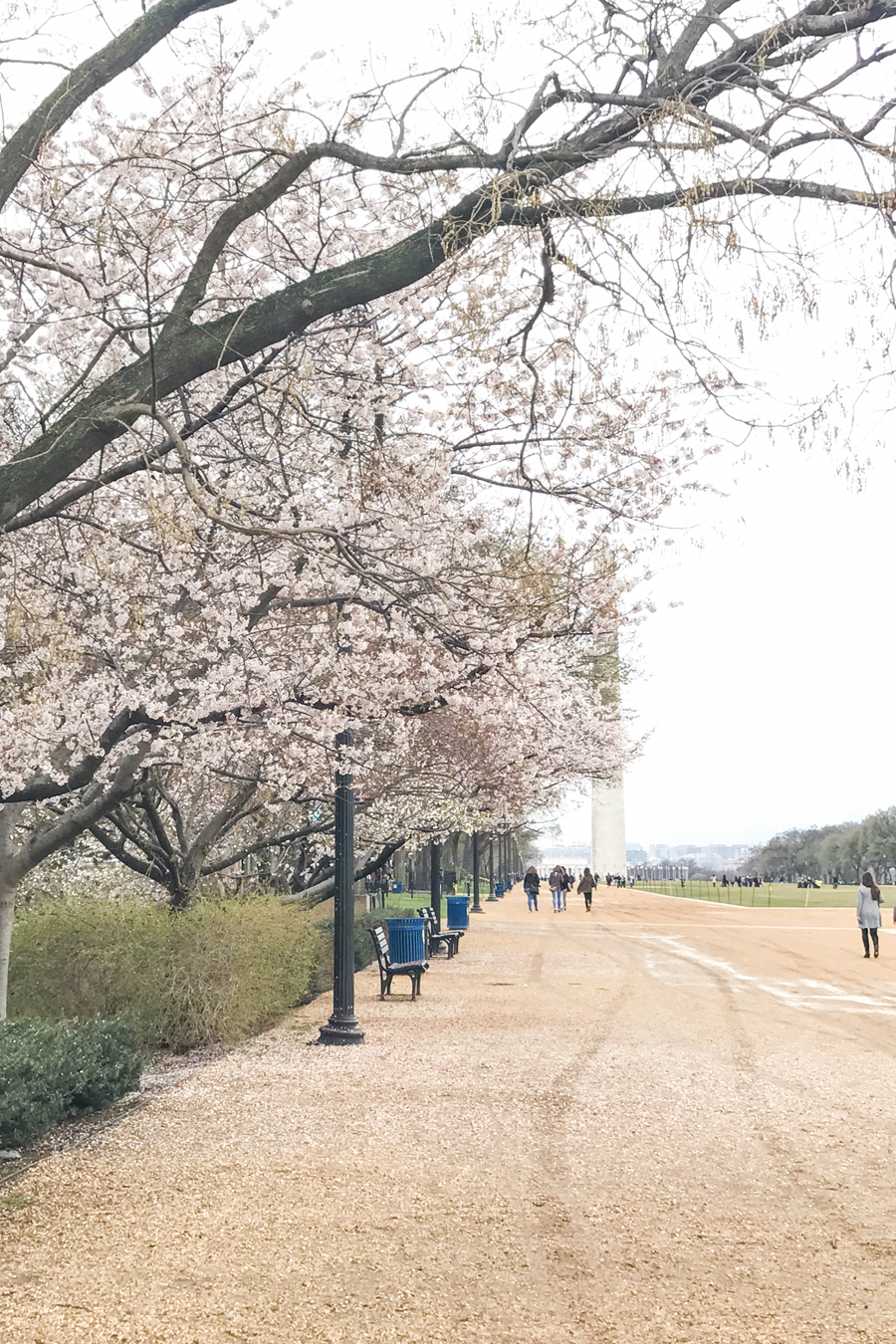 Grabbed some lunch and a peek at the blossoms.. plus a walk through the Smithsonian gardens. SUCH a pretty spot.. I'm sure there'd be some permits involved but I'd love to photograph there!!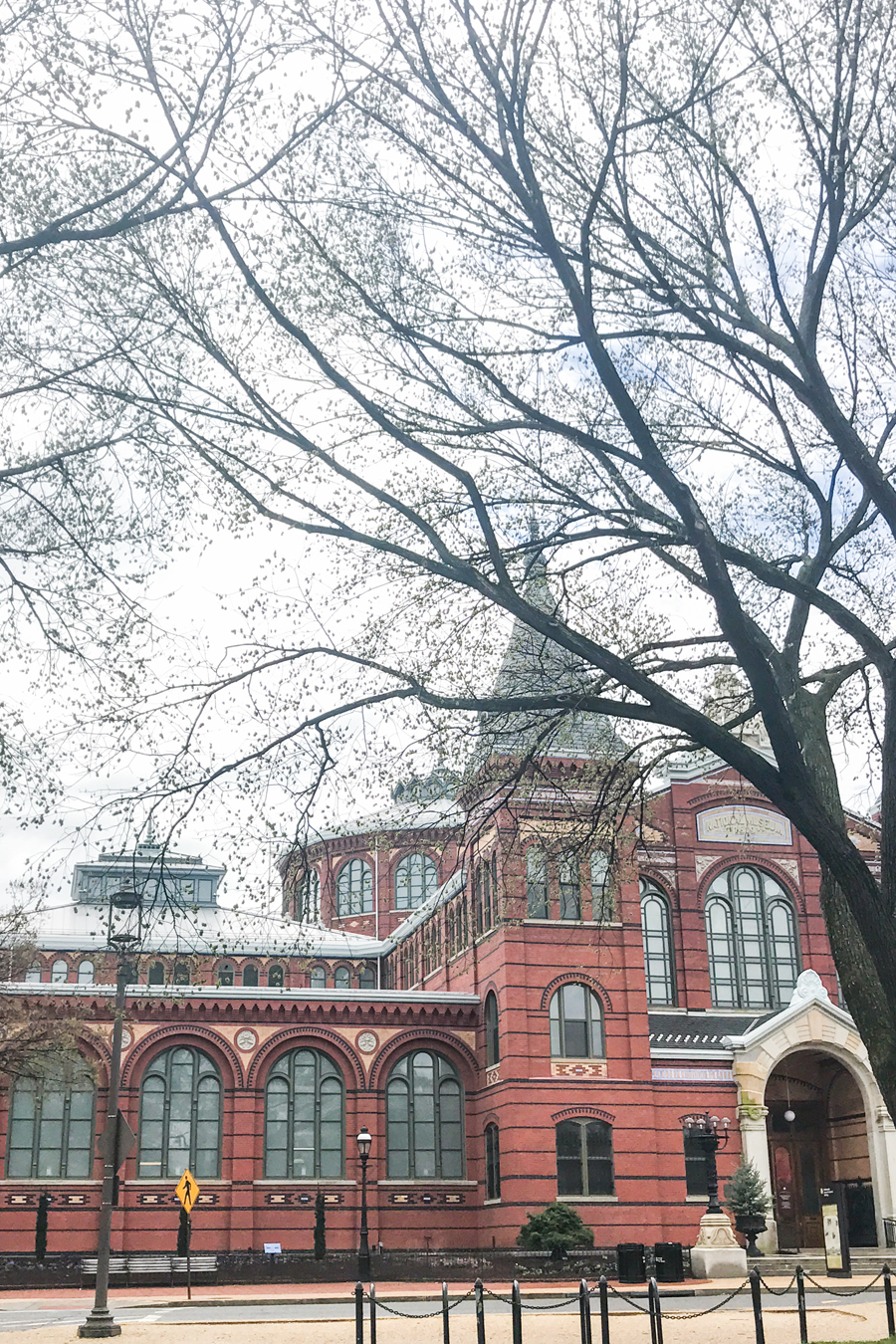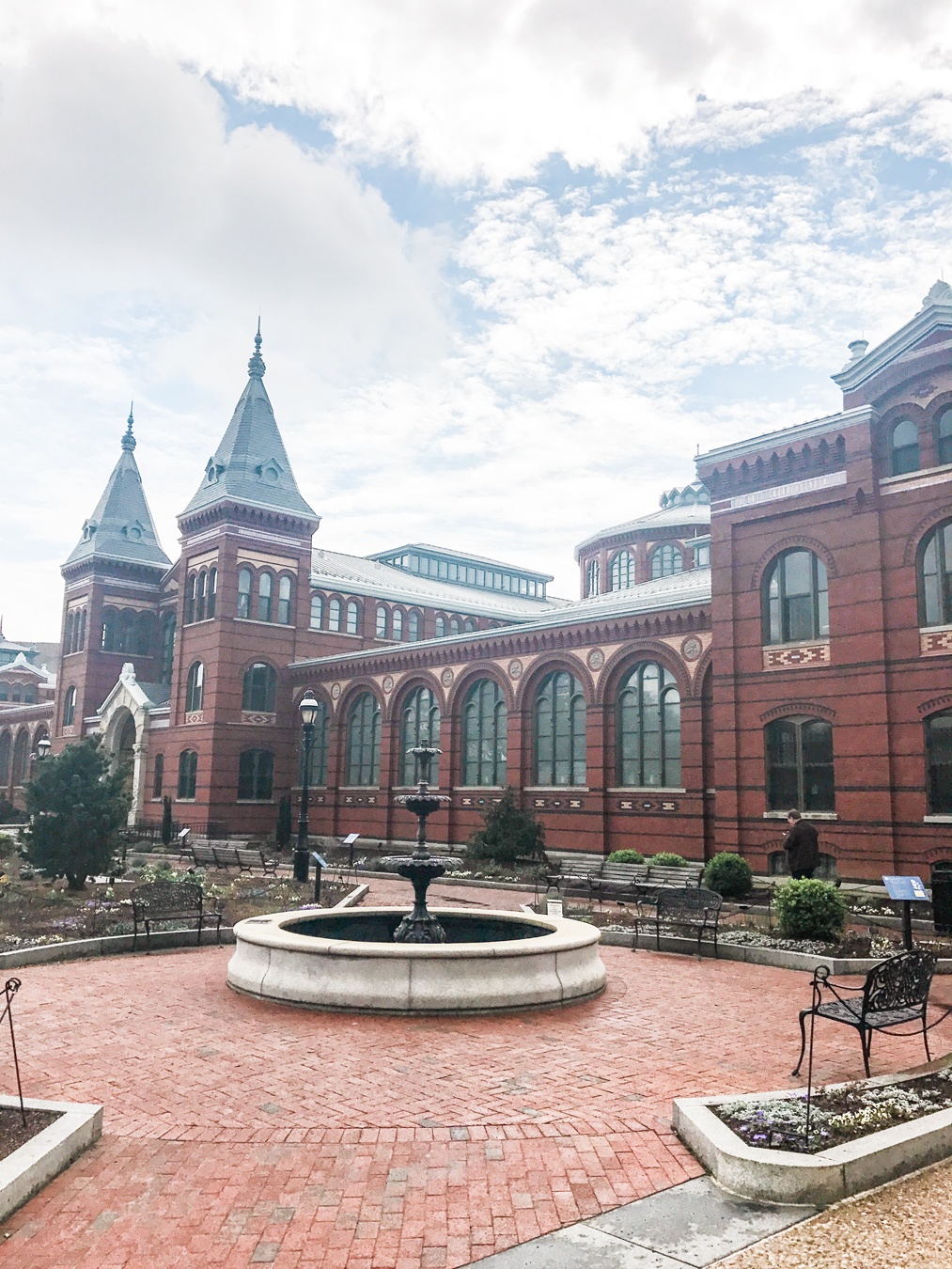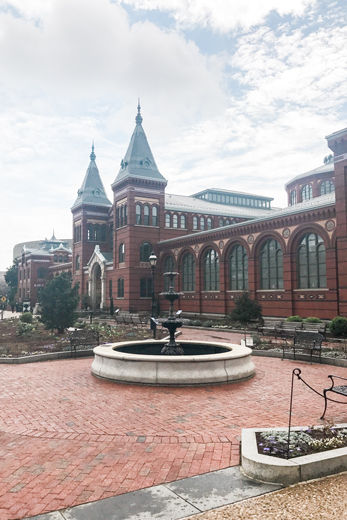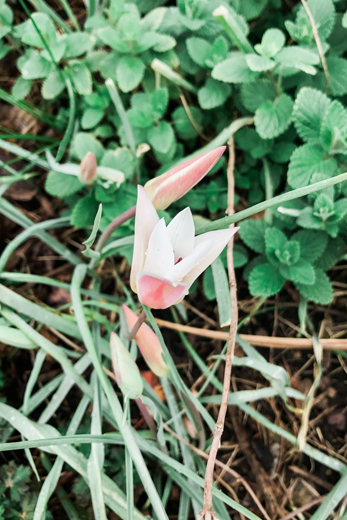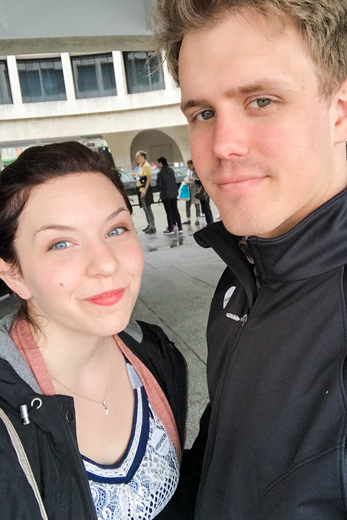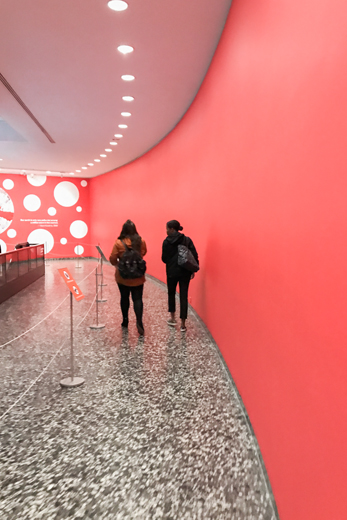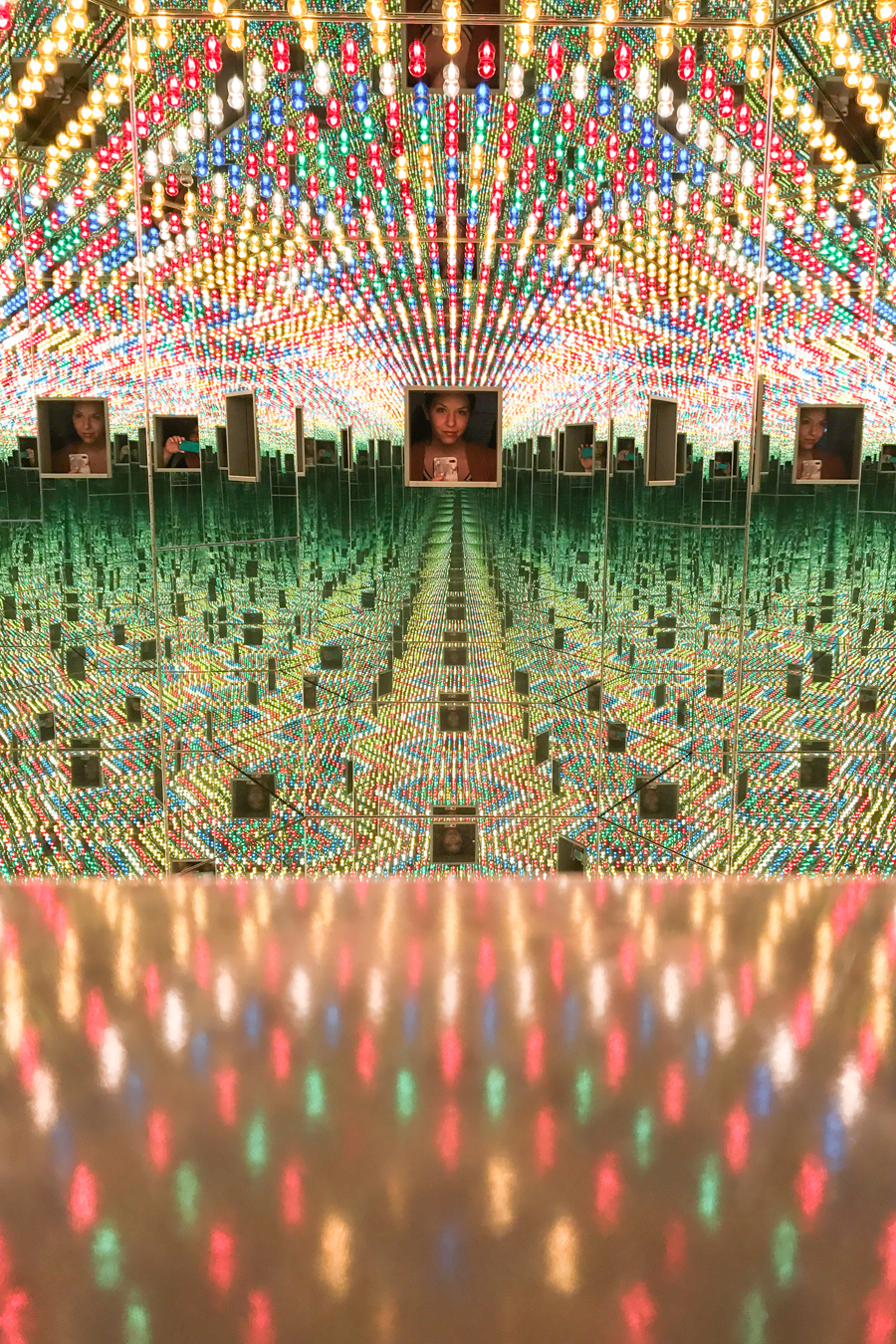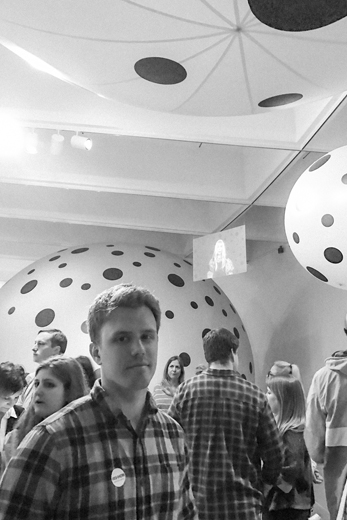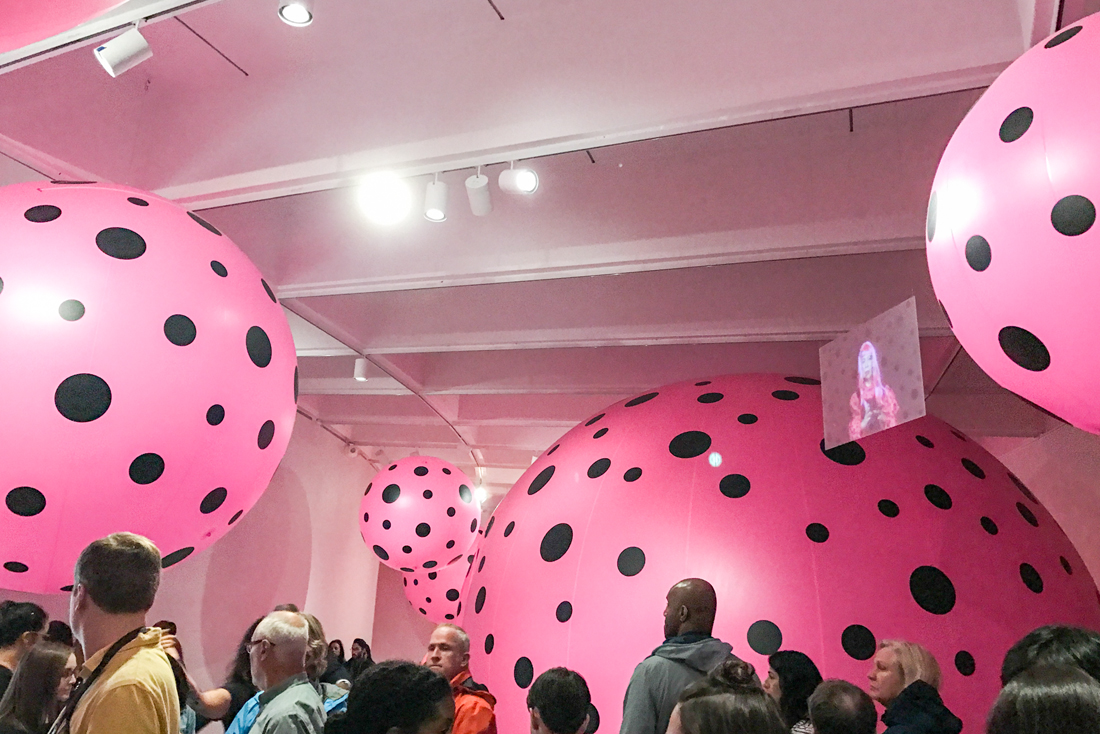 The lines are no joke!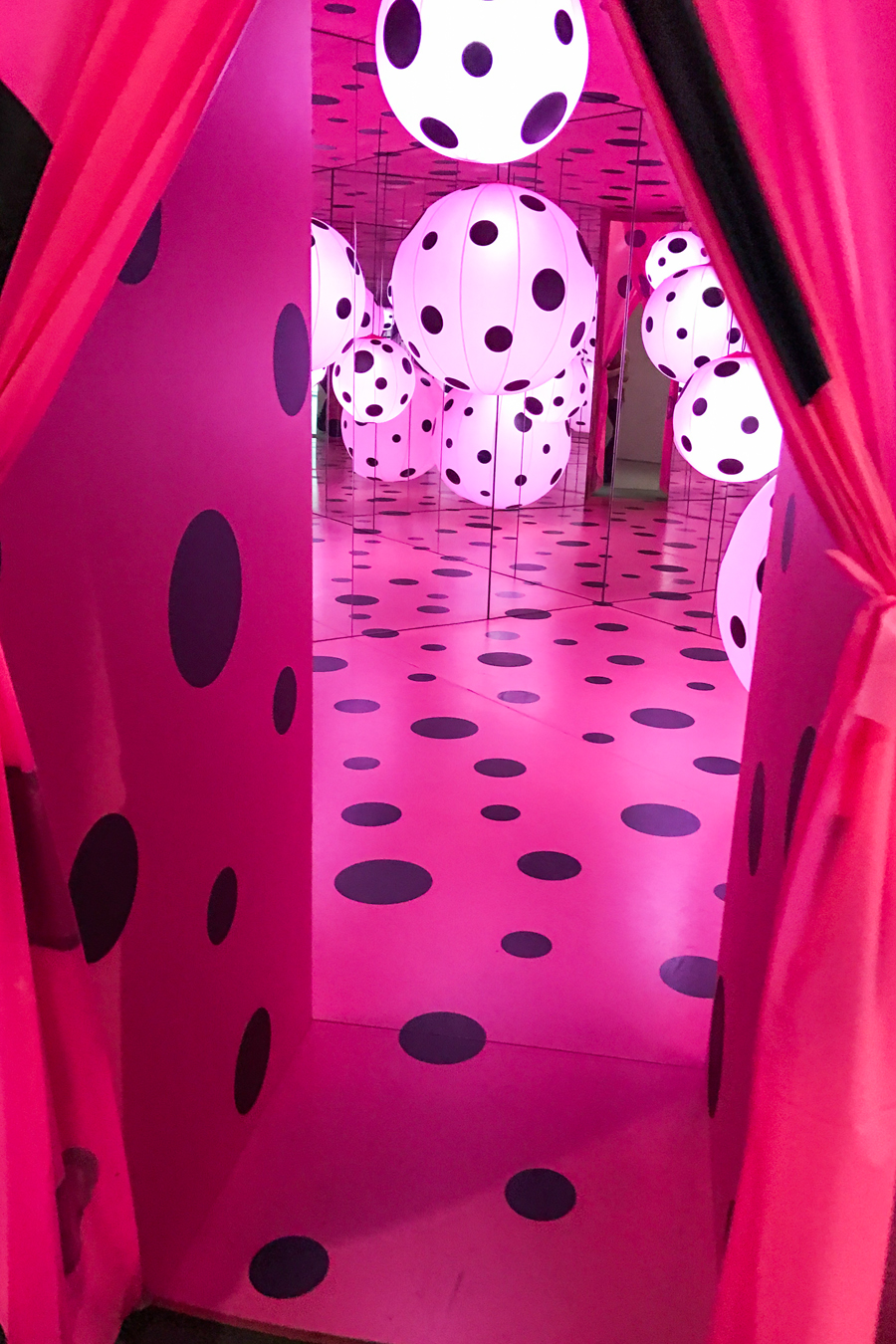 But the rooms are so cool!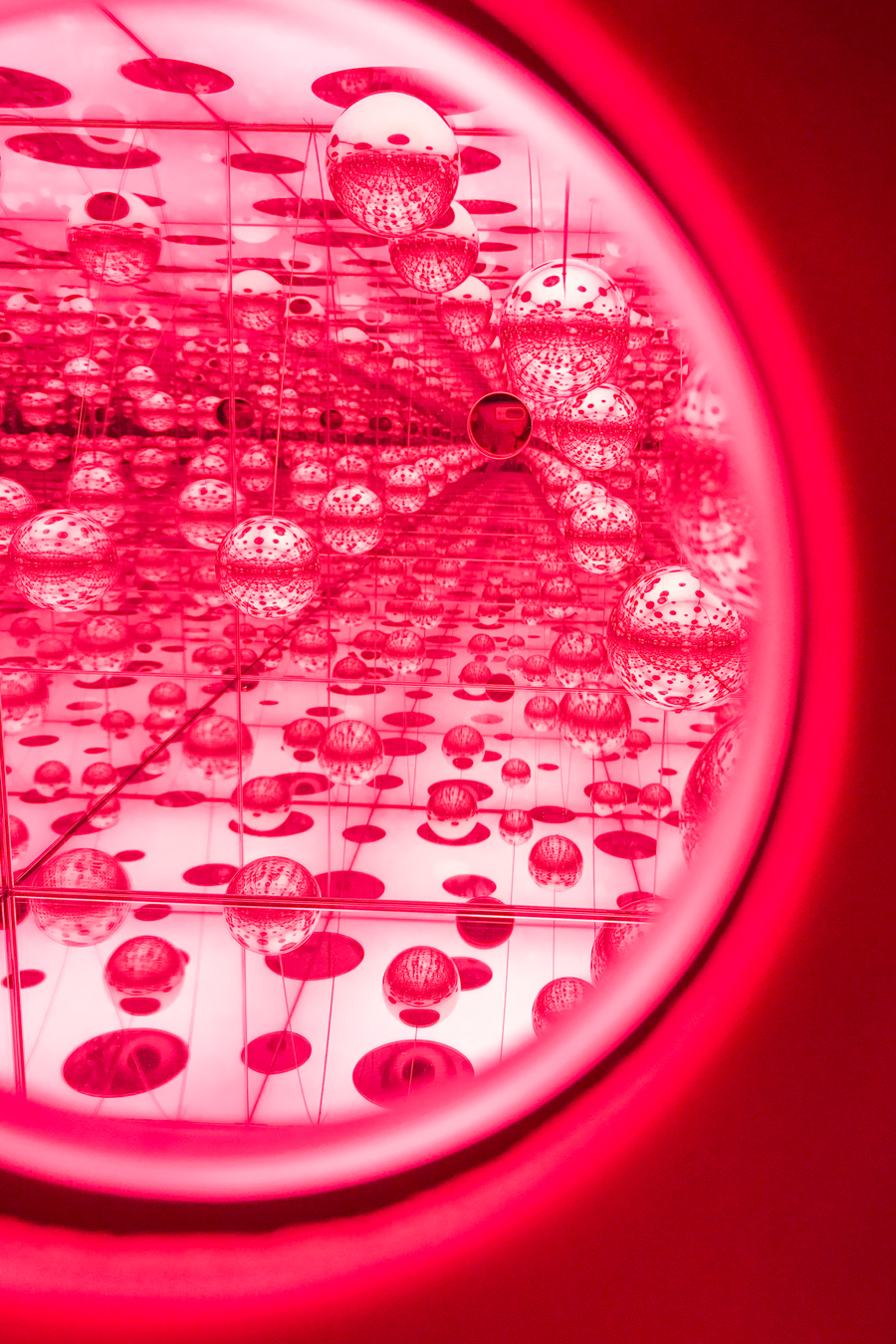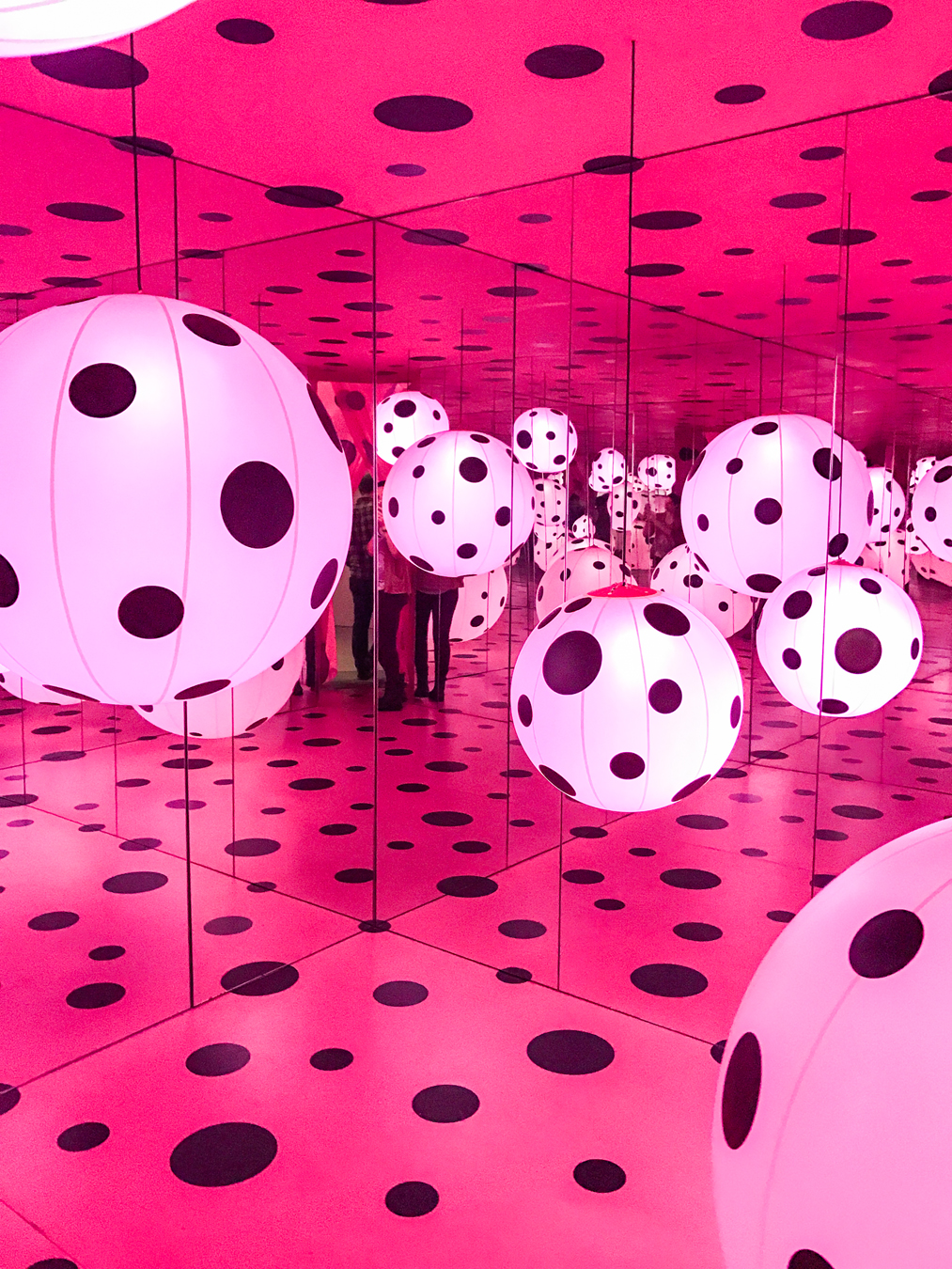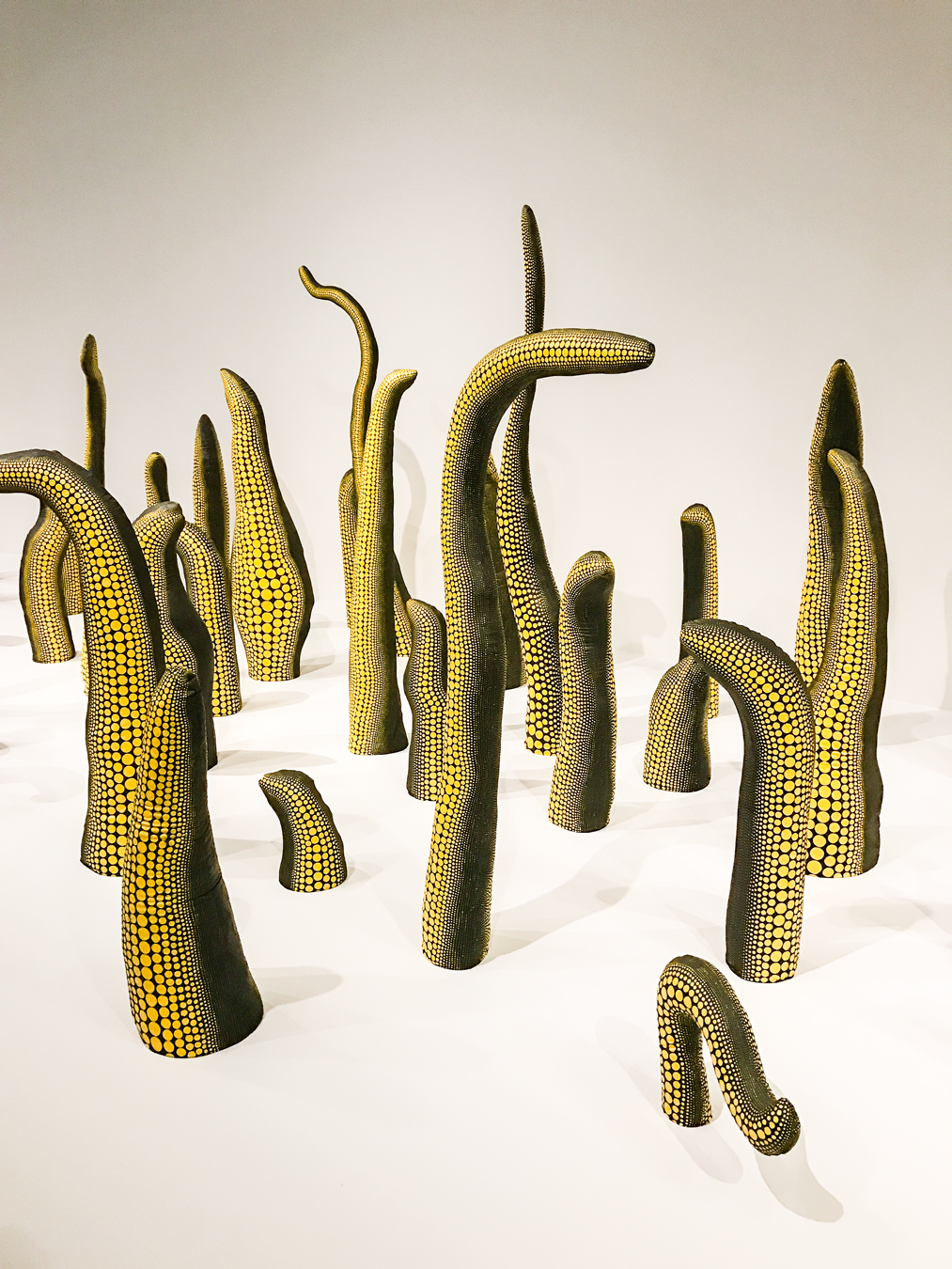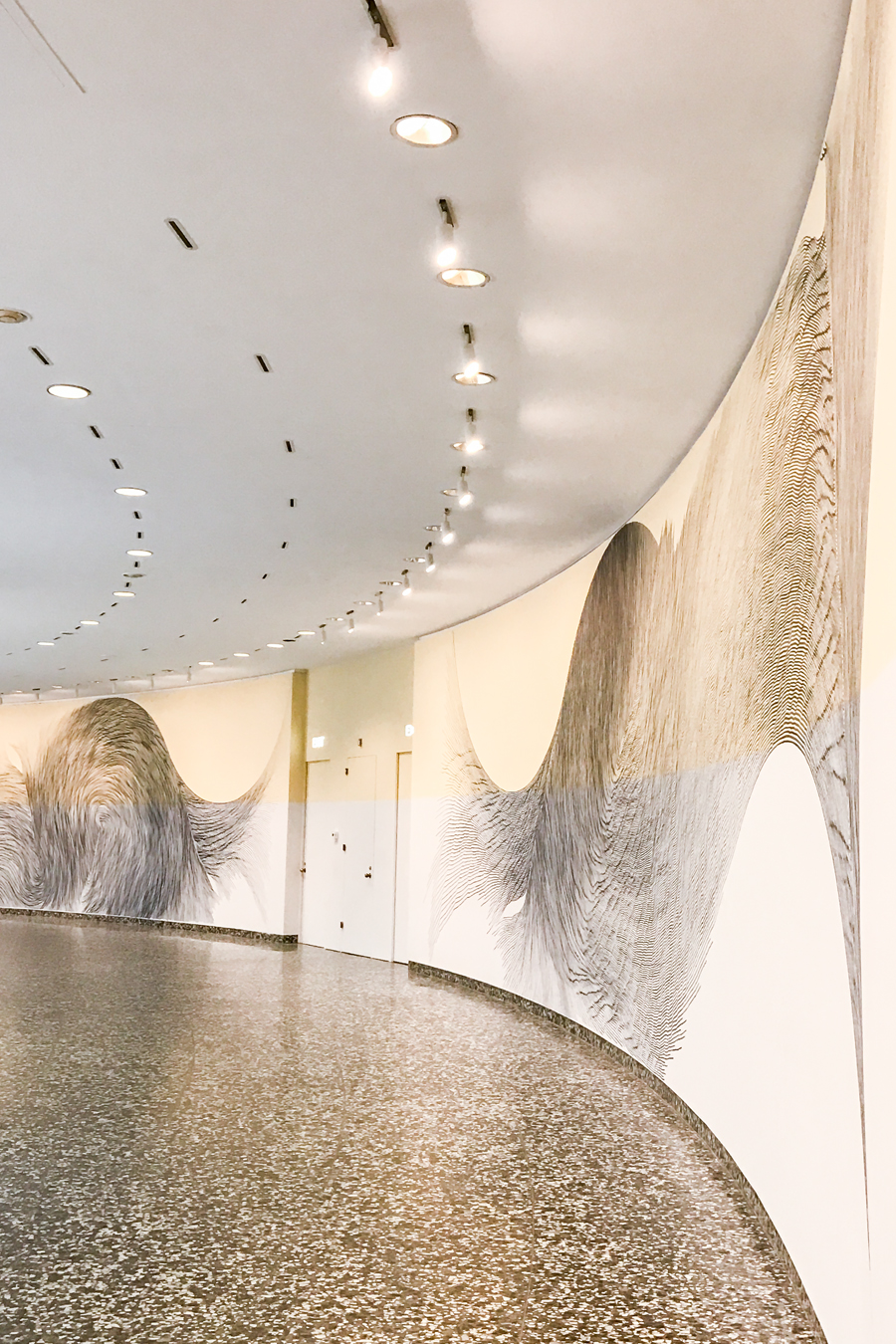 A quick spotting of one of my other favorite works in the Hirshhorn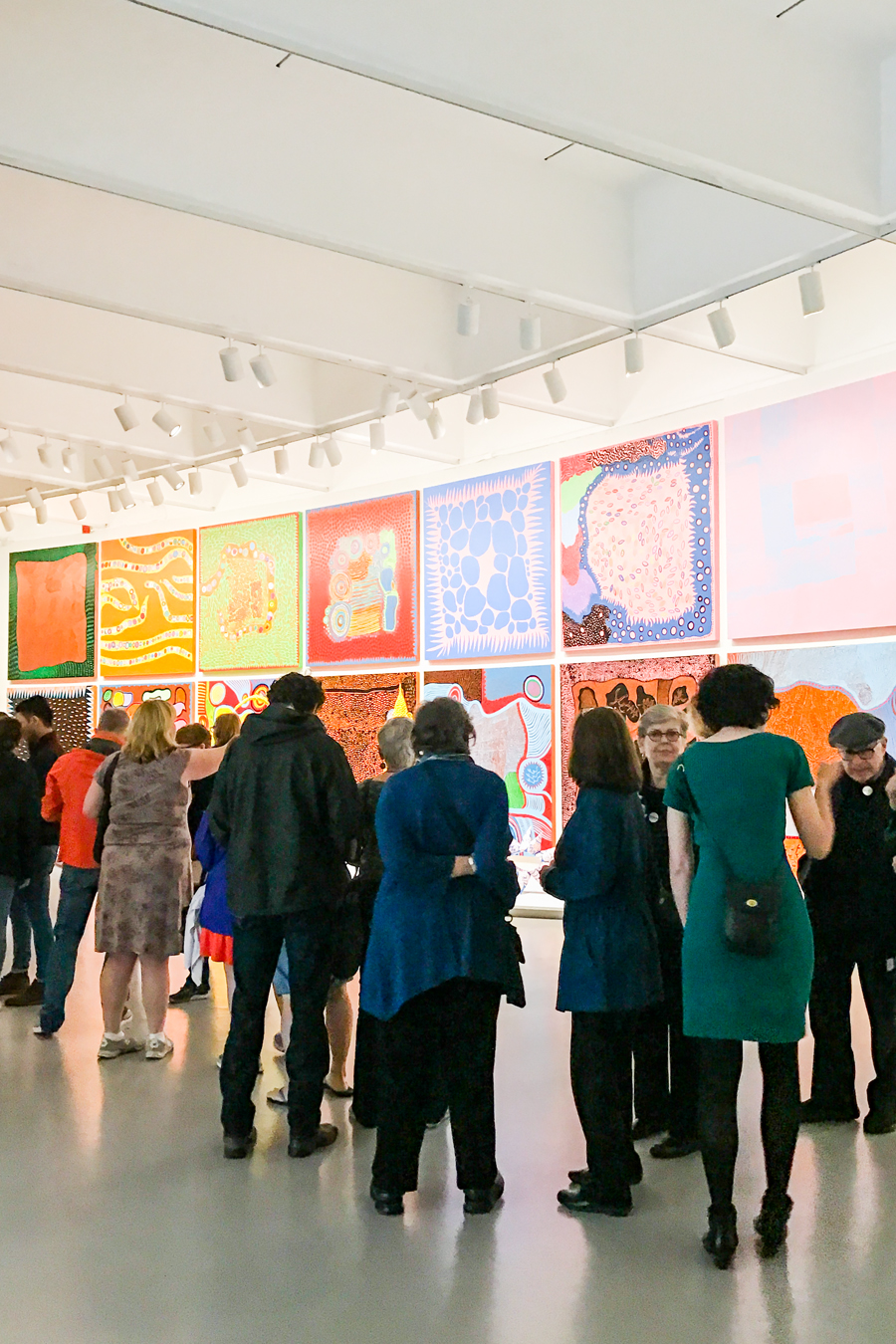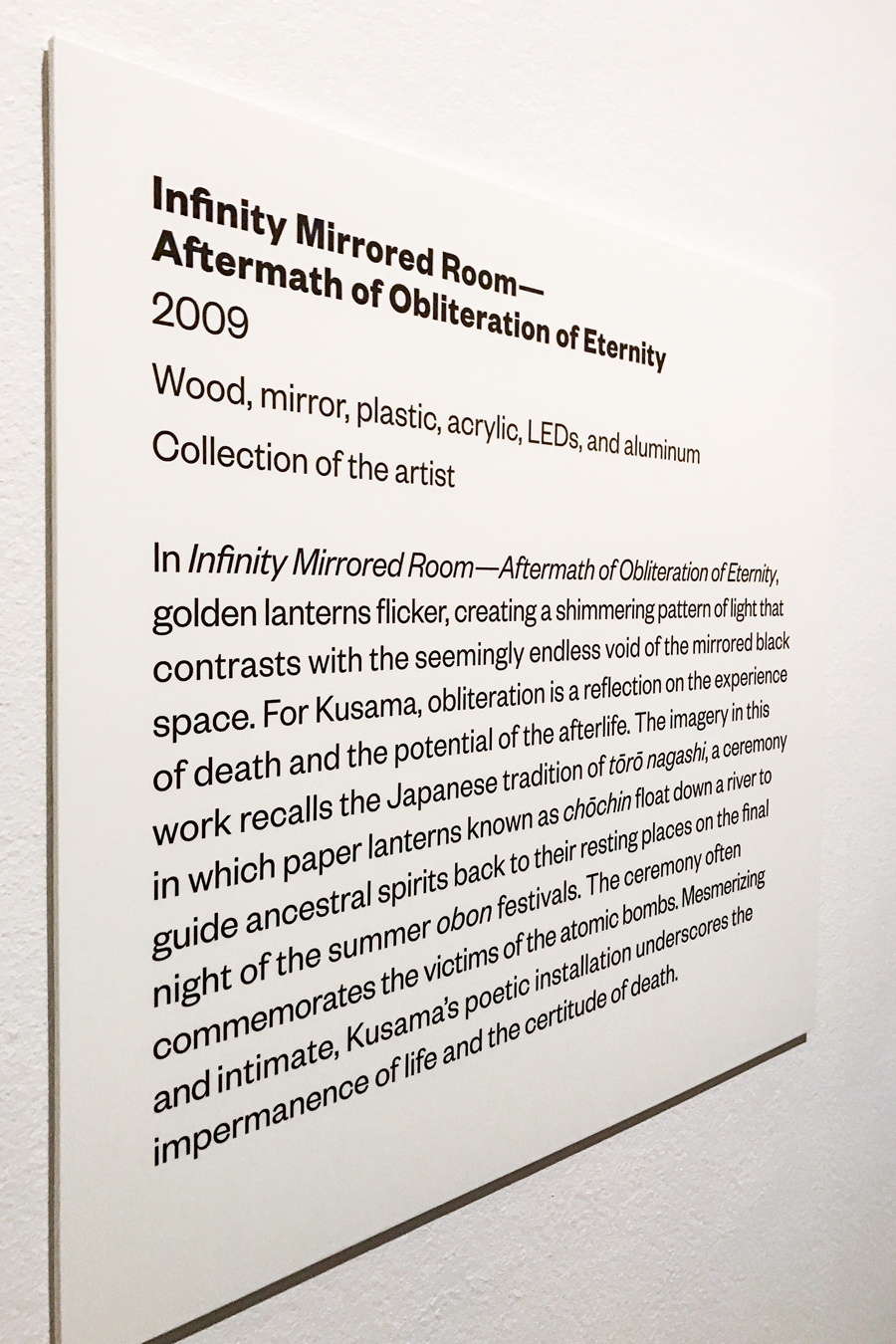 We stepped out of this room and I swear that I felt a little.. moved? It feels cliche to say now.. but it was quiet inside and removed from the crowds, and it felt like floating in space in the most peaceful way. It was beautiful and I made Adam wait in the line a second time later on just to experience it again.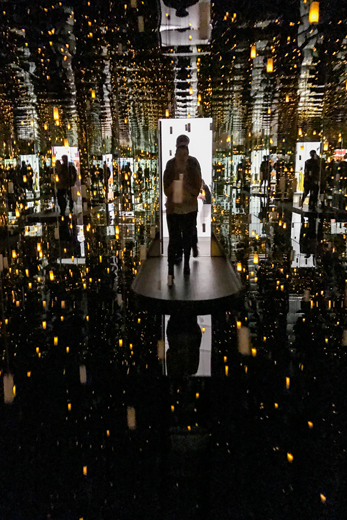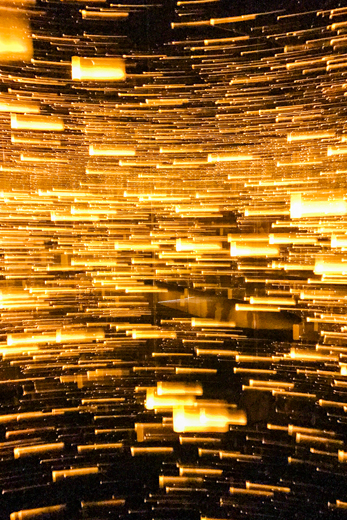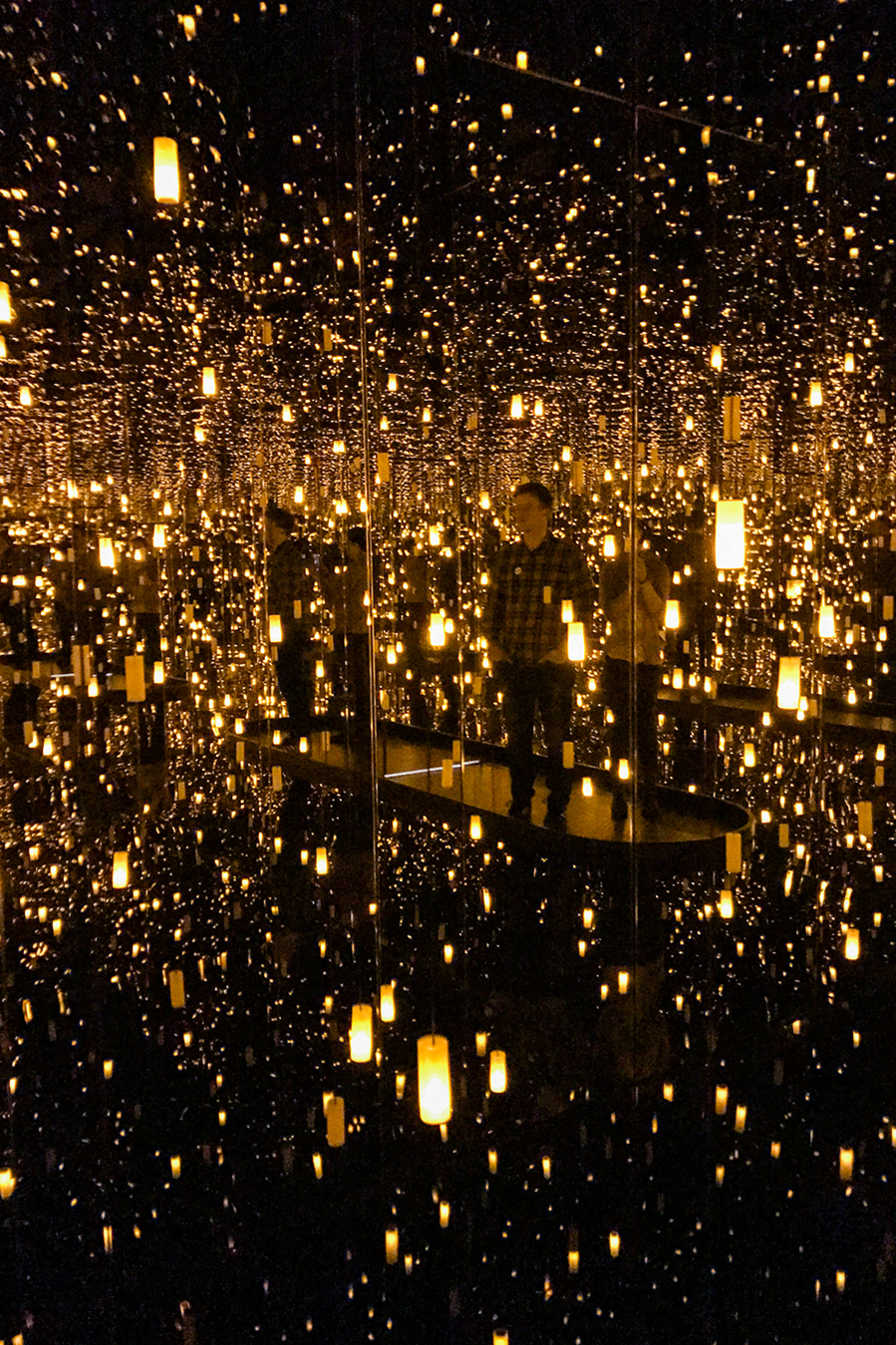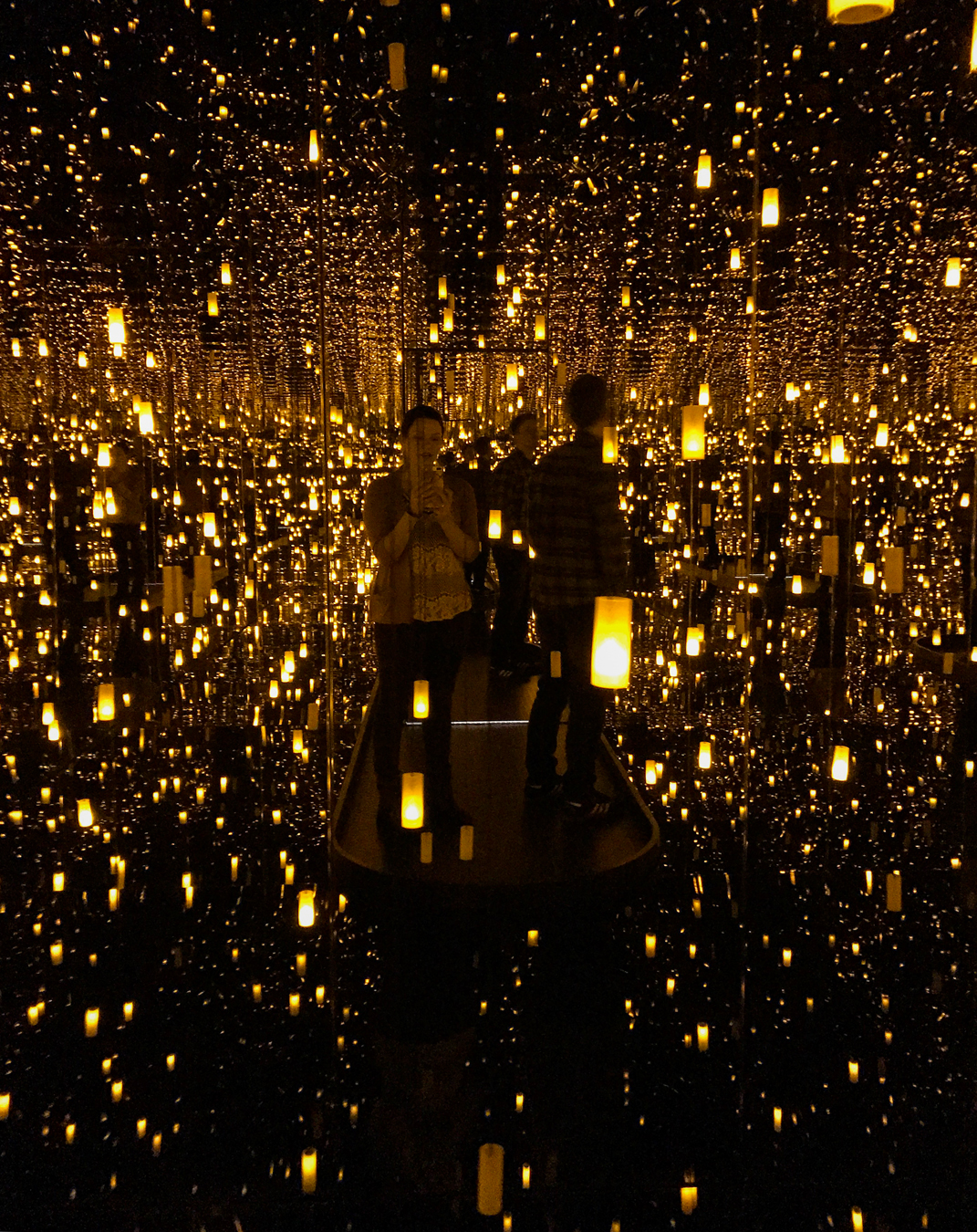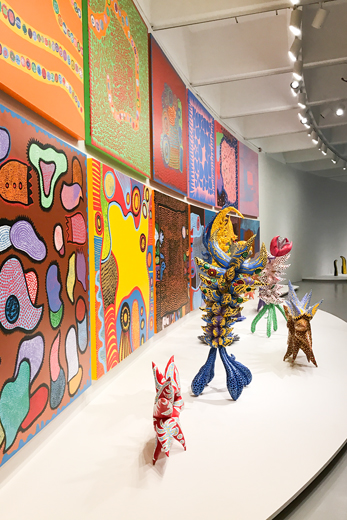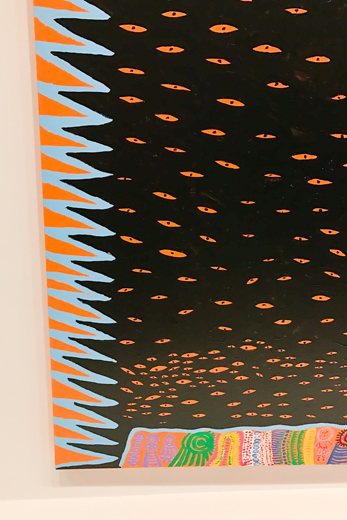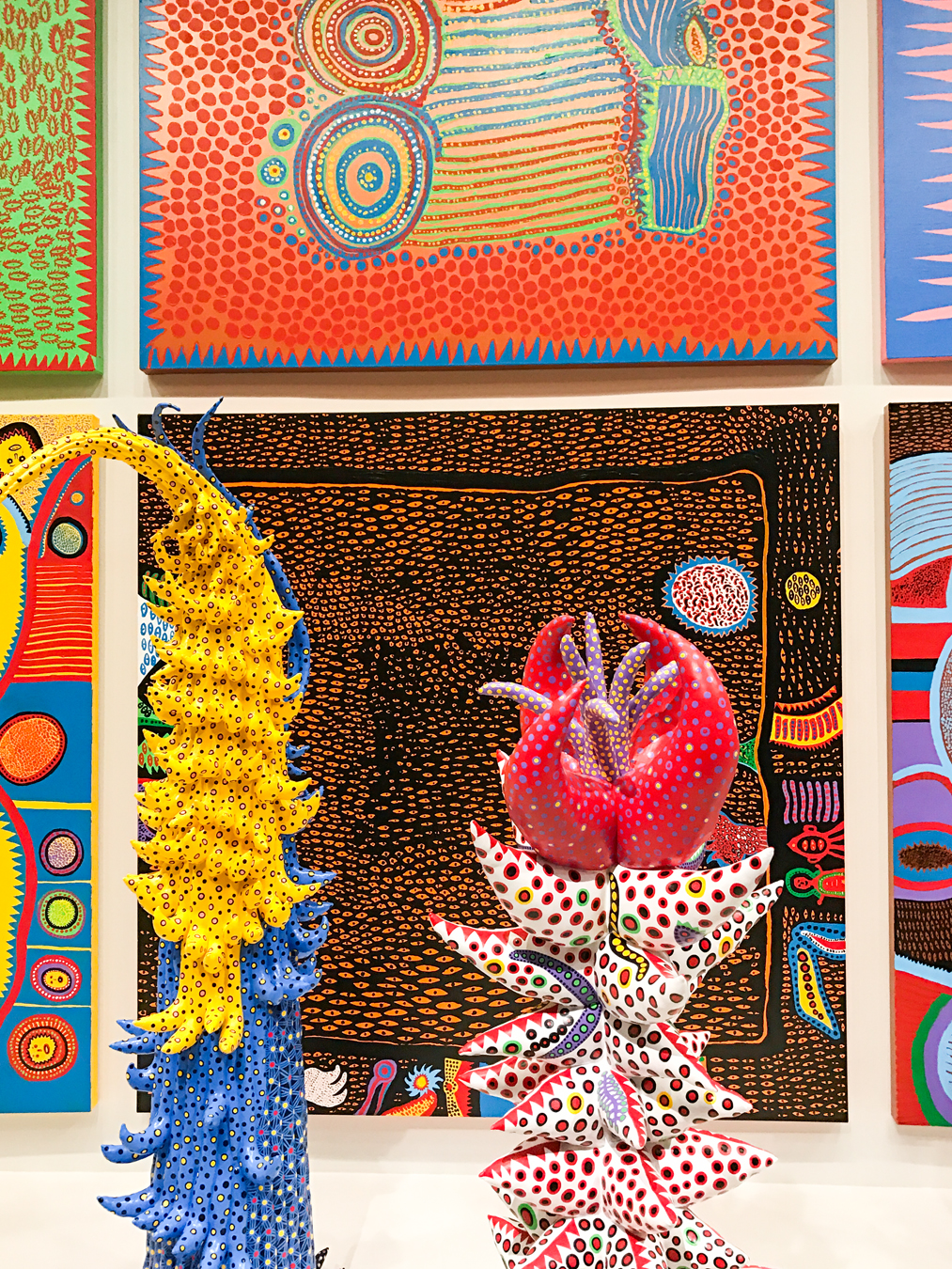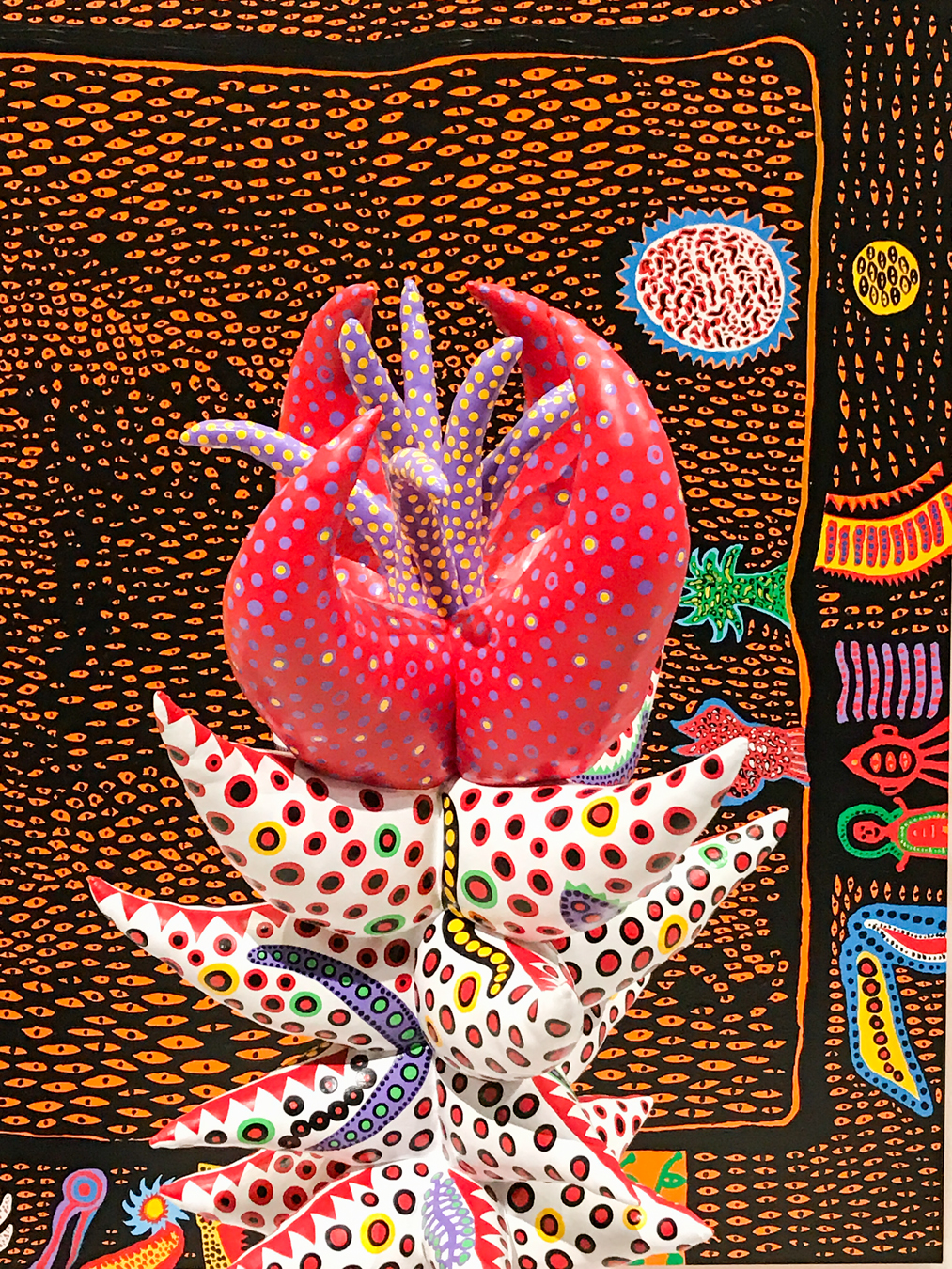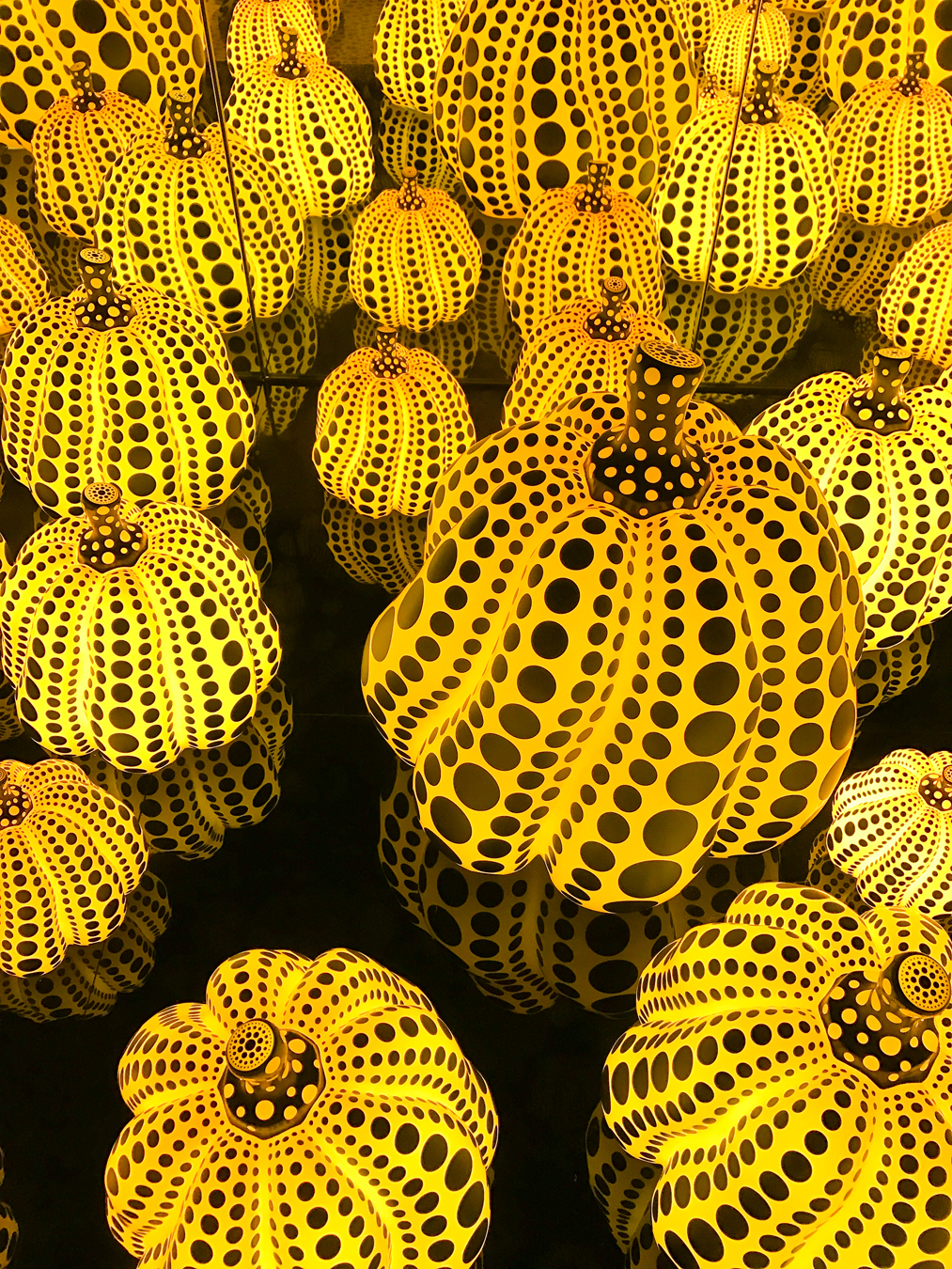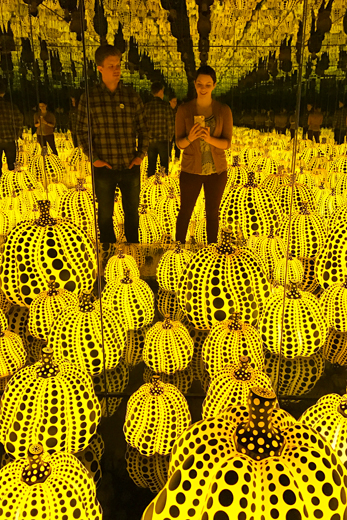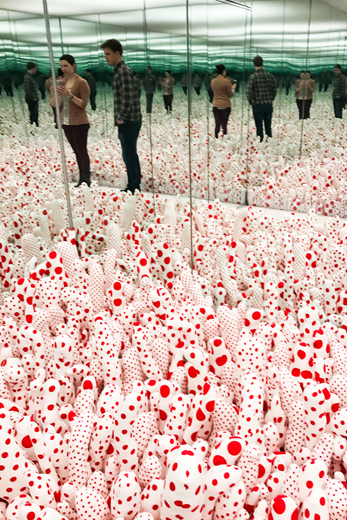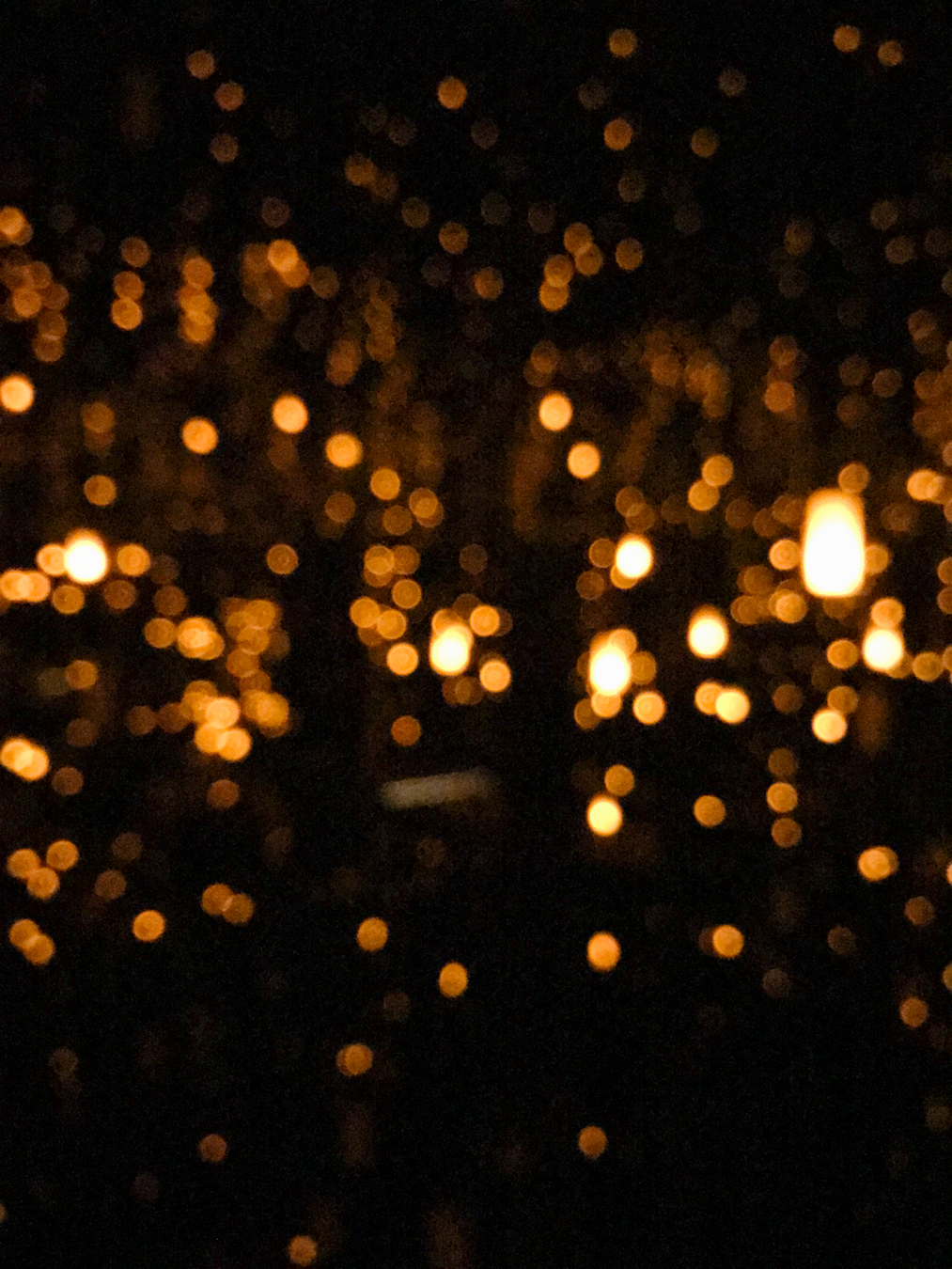 & I also took a video the second time around!
Second favorite room.. so pretty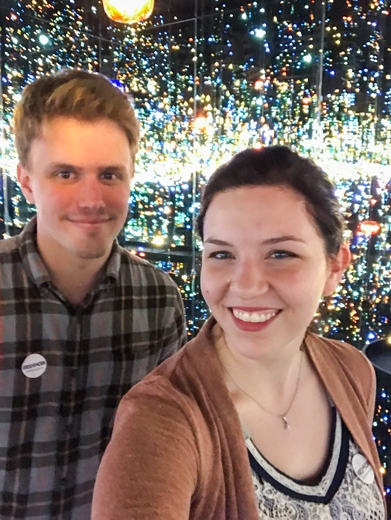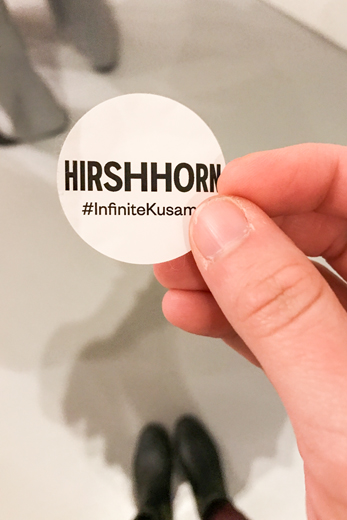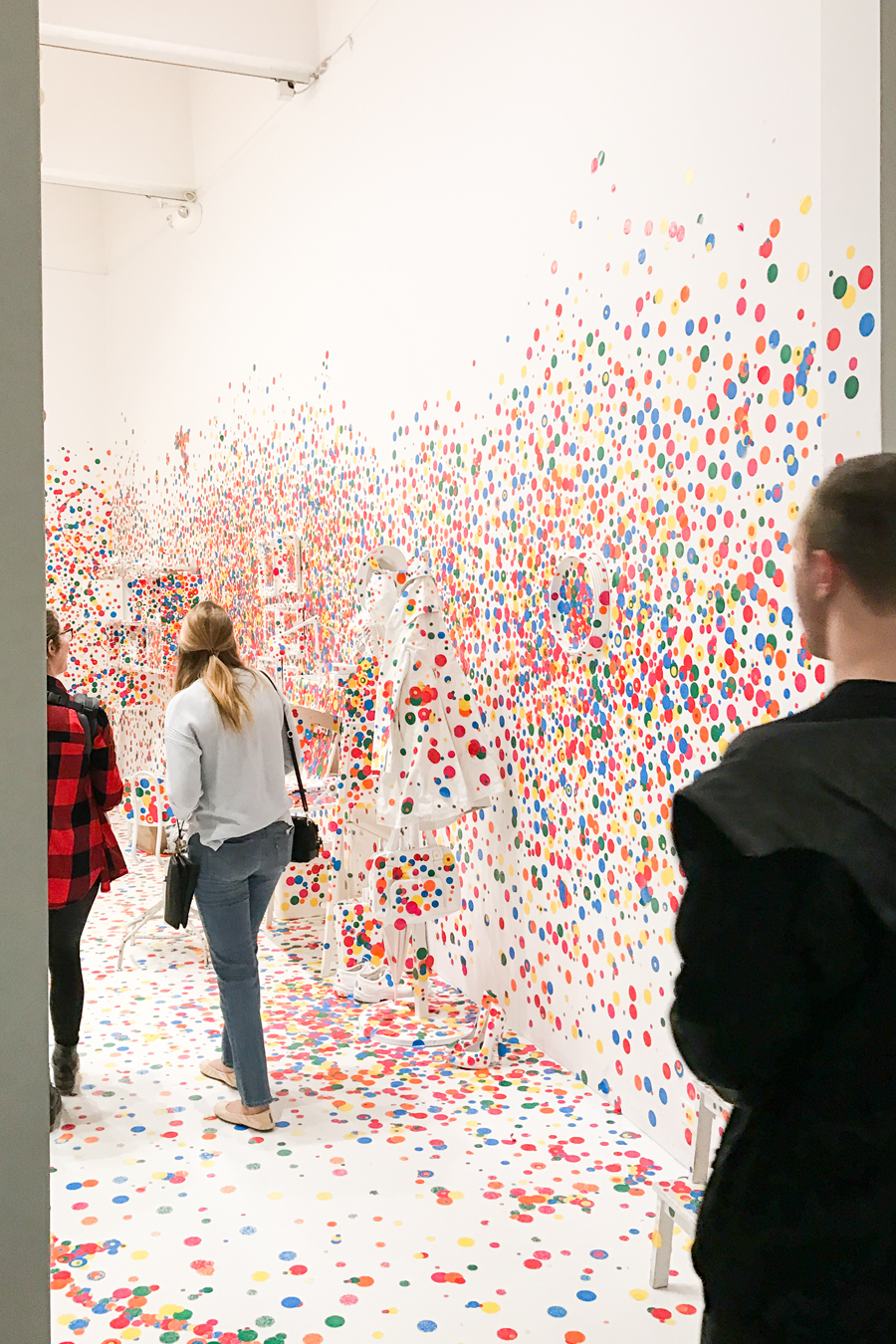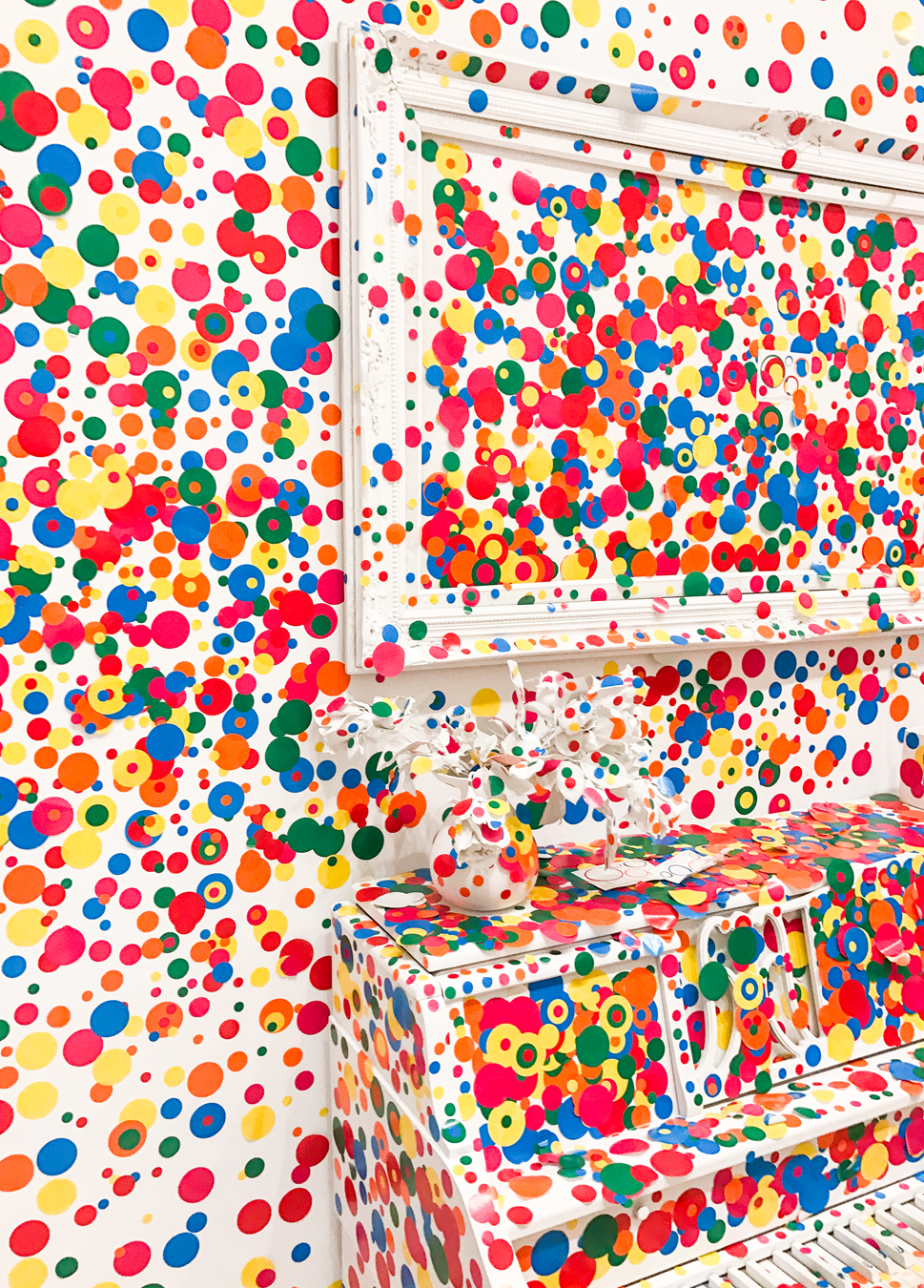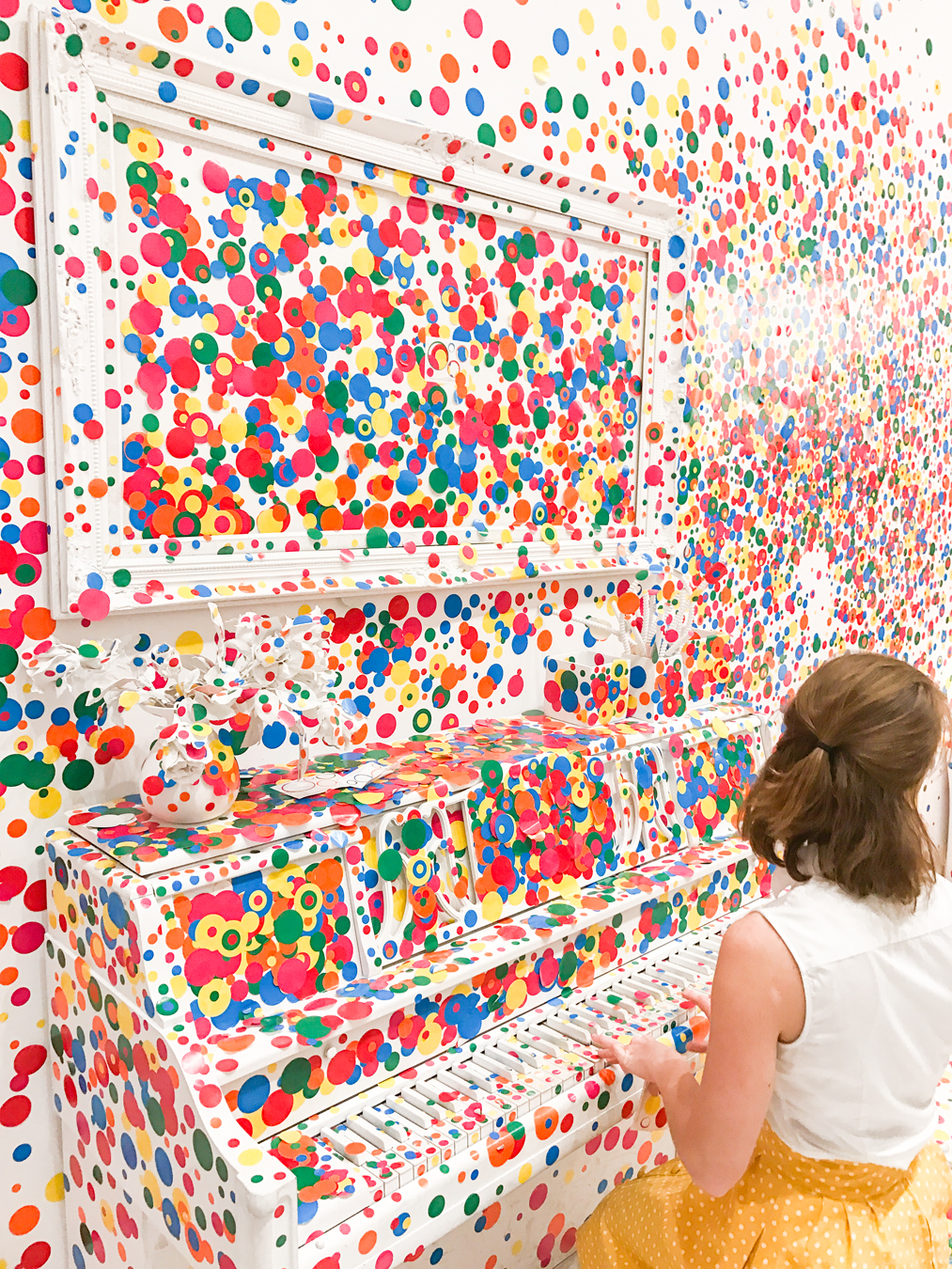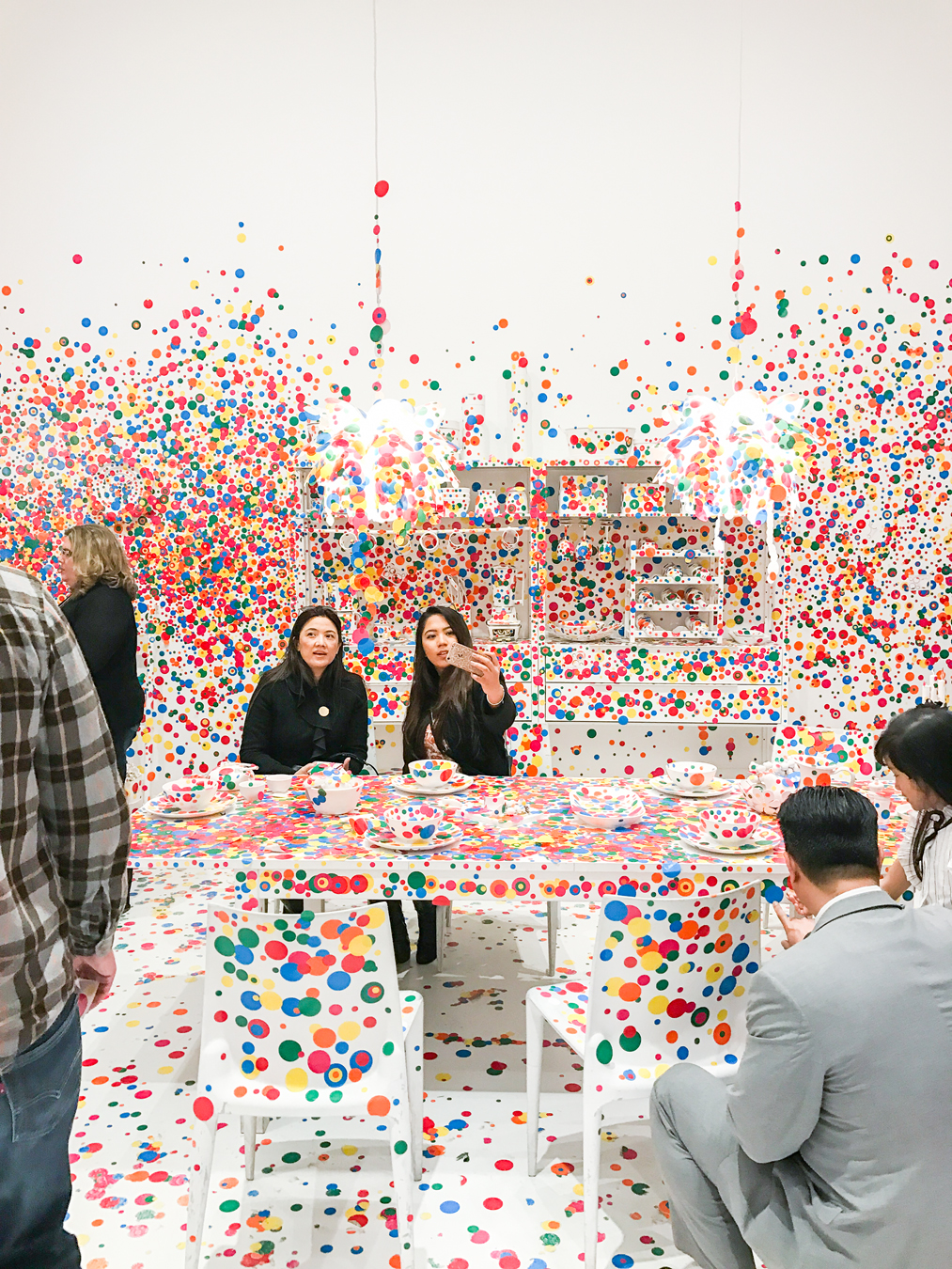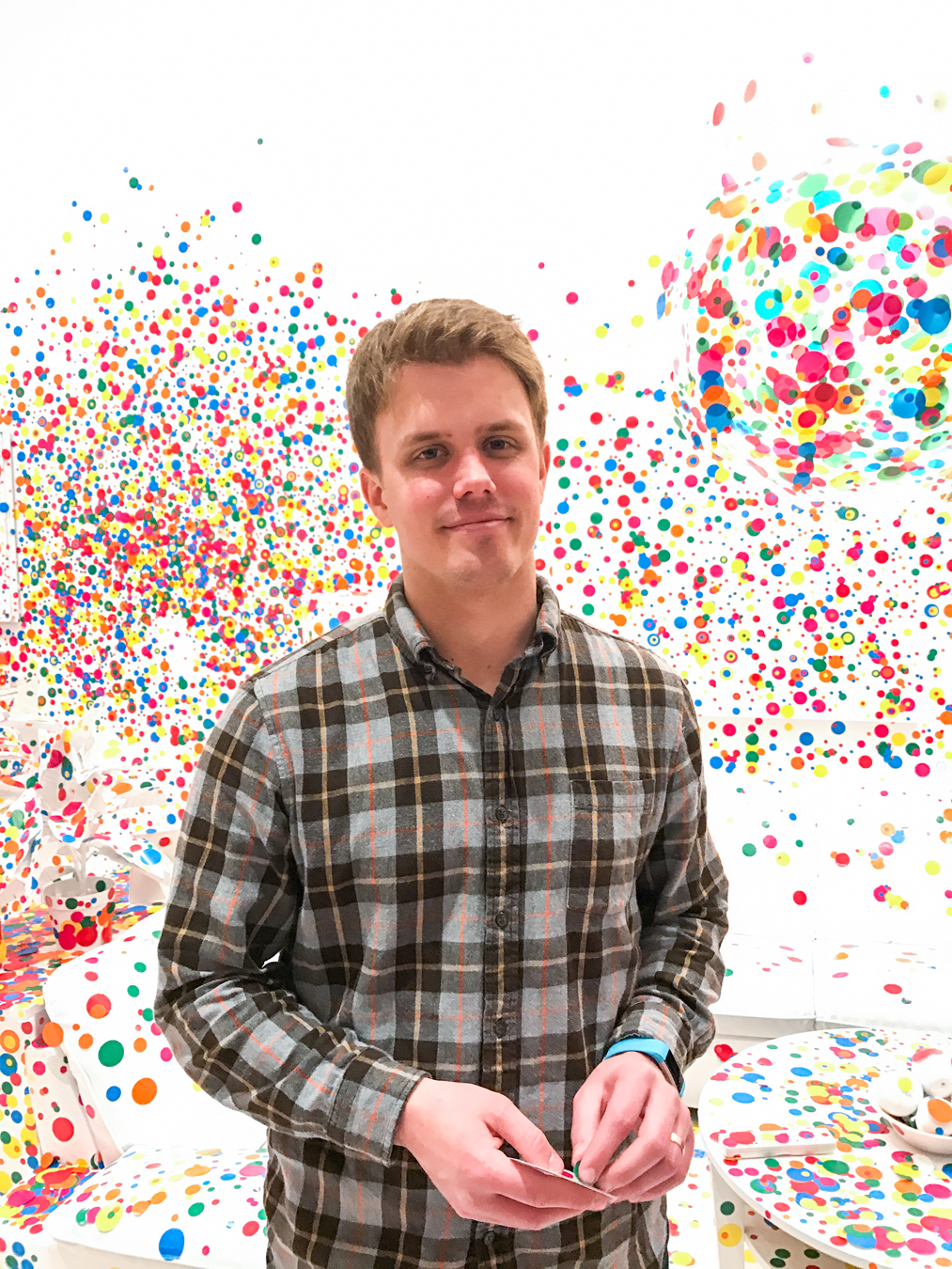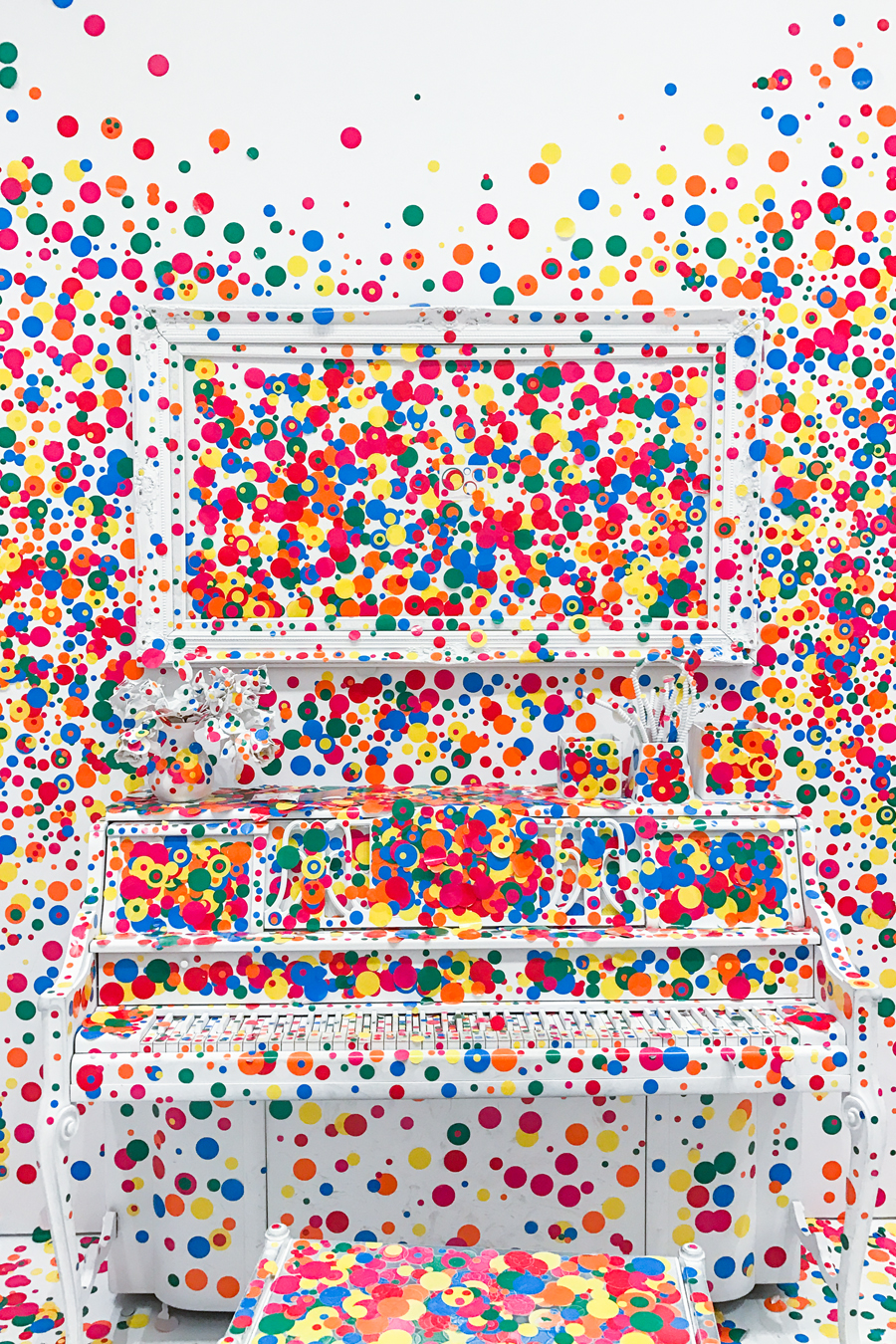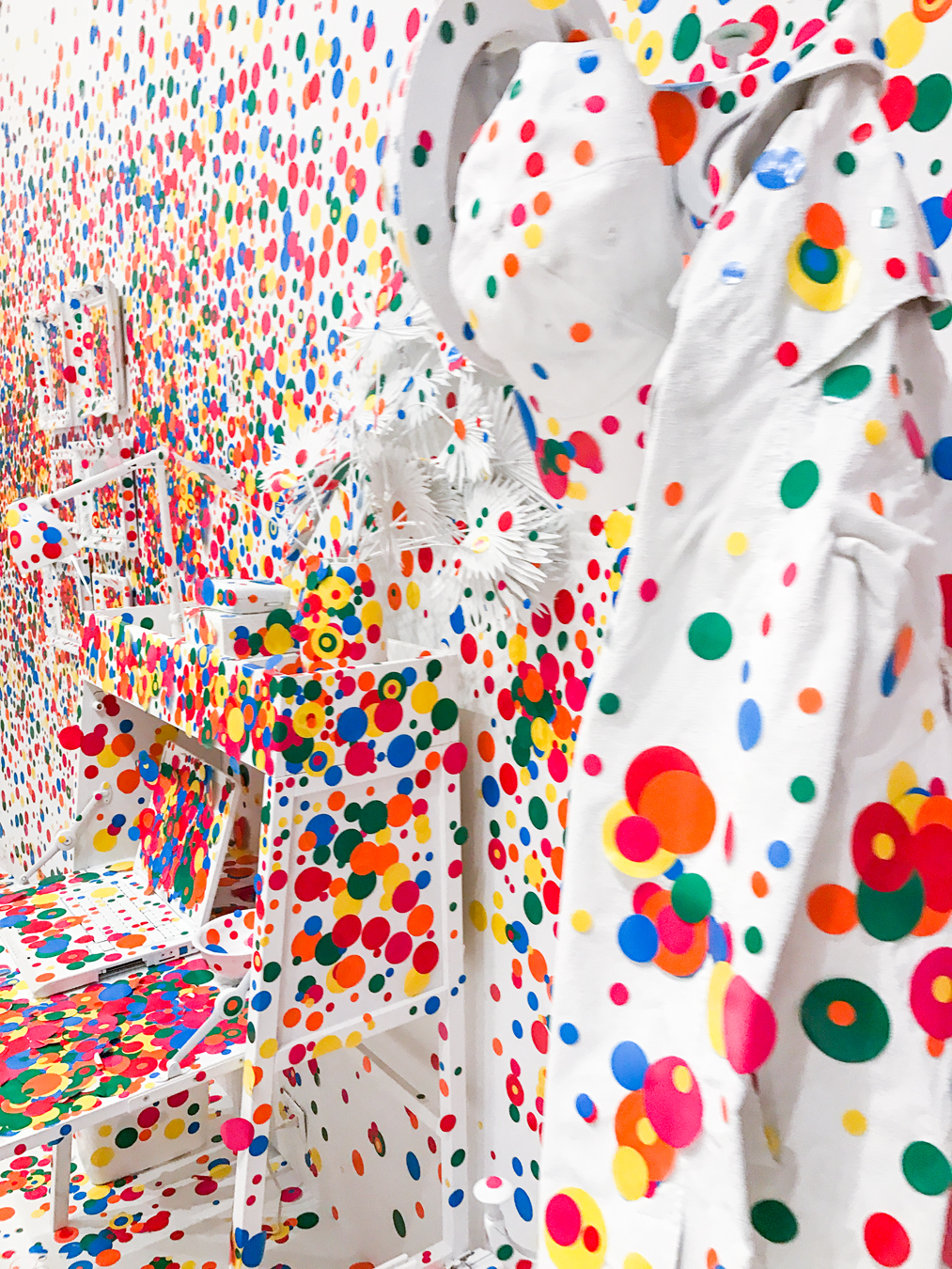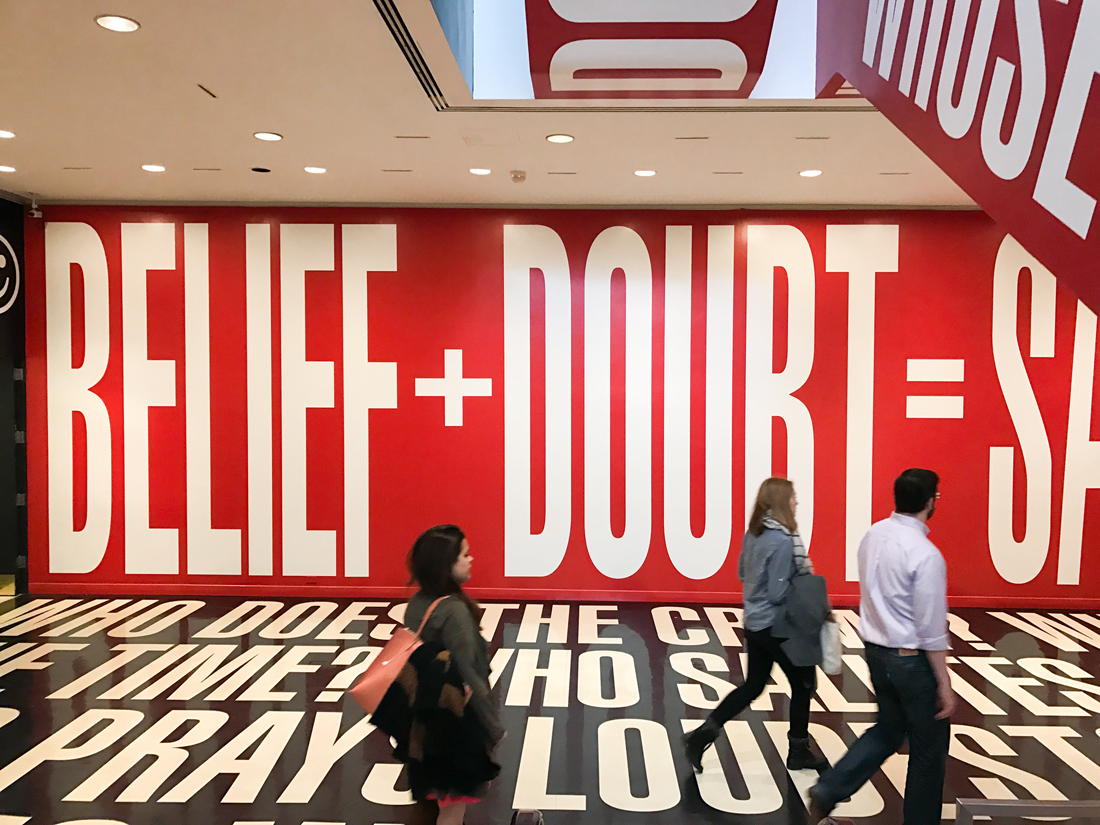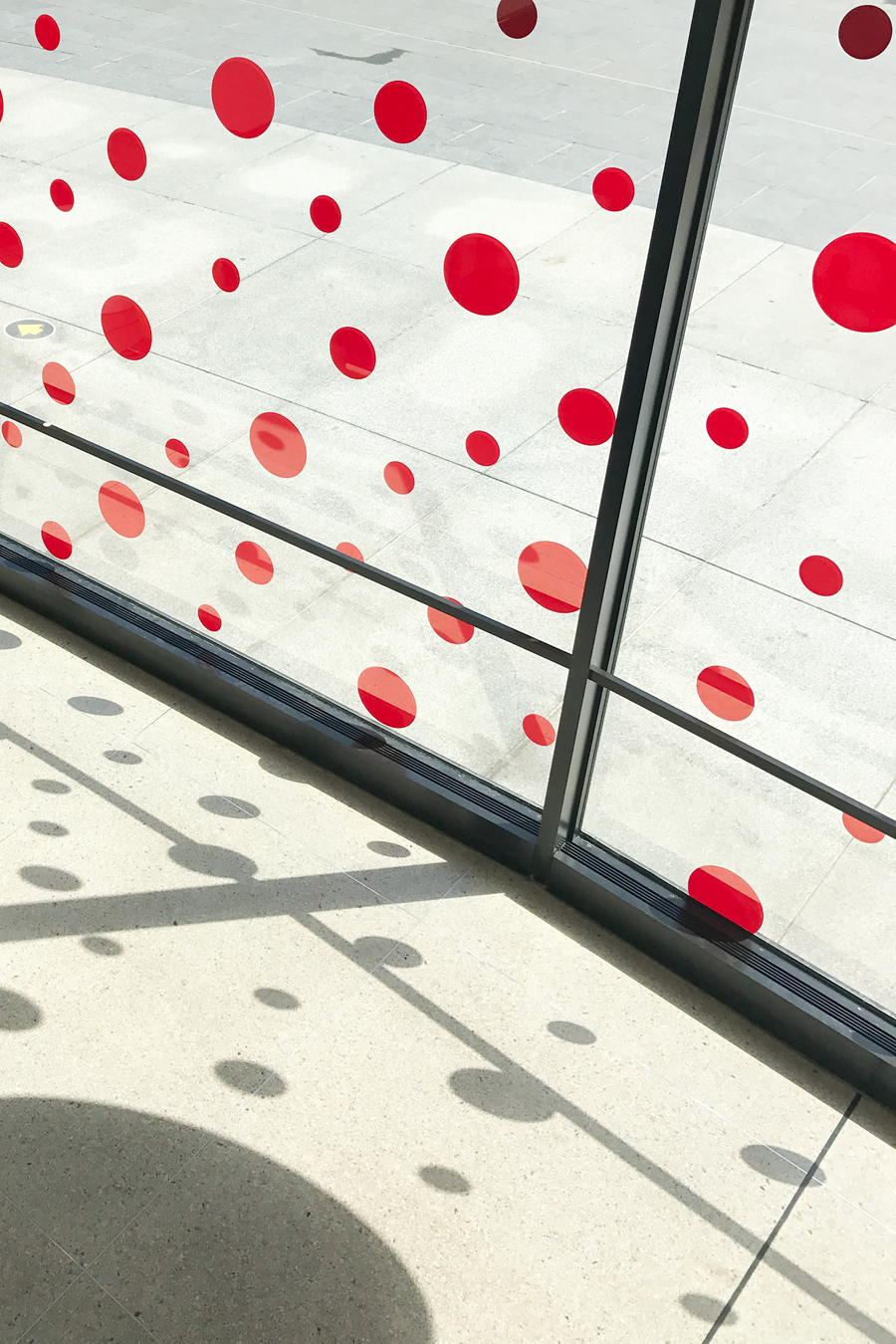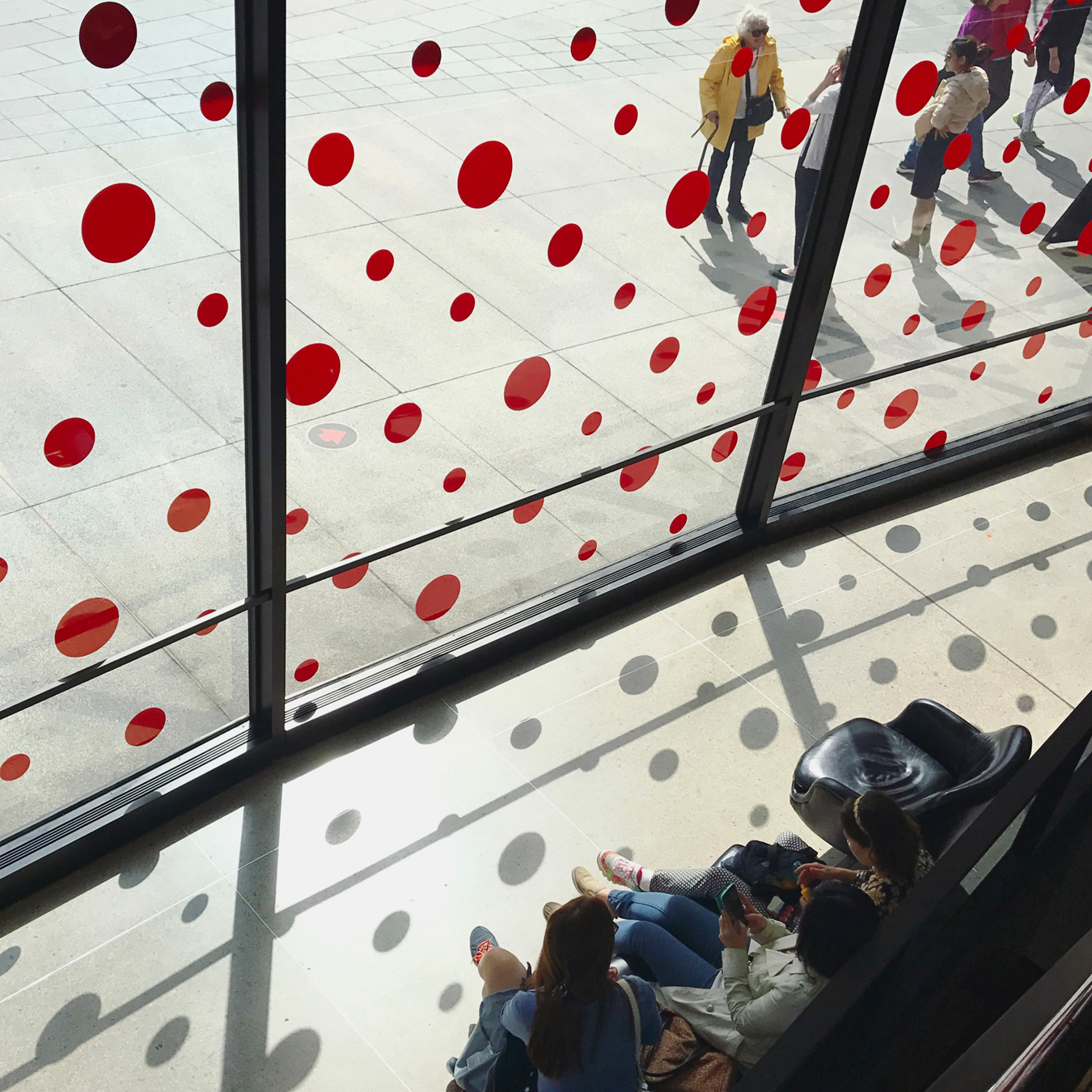 Dots + Blossoms..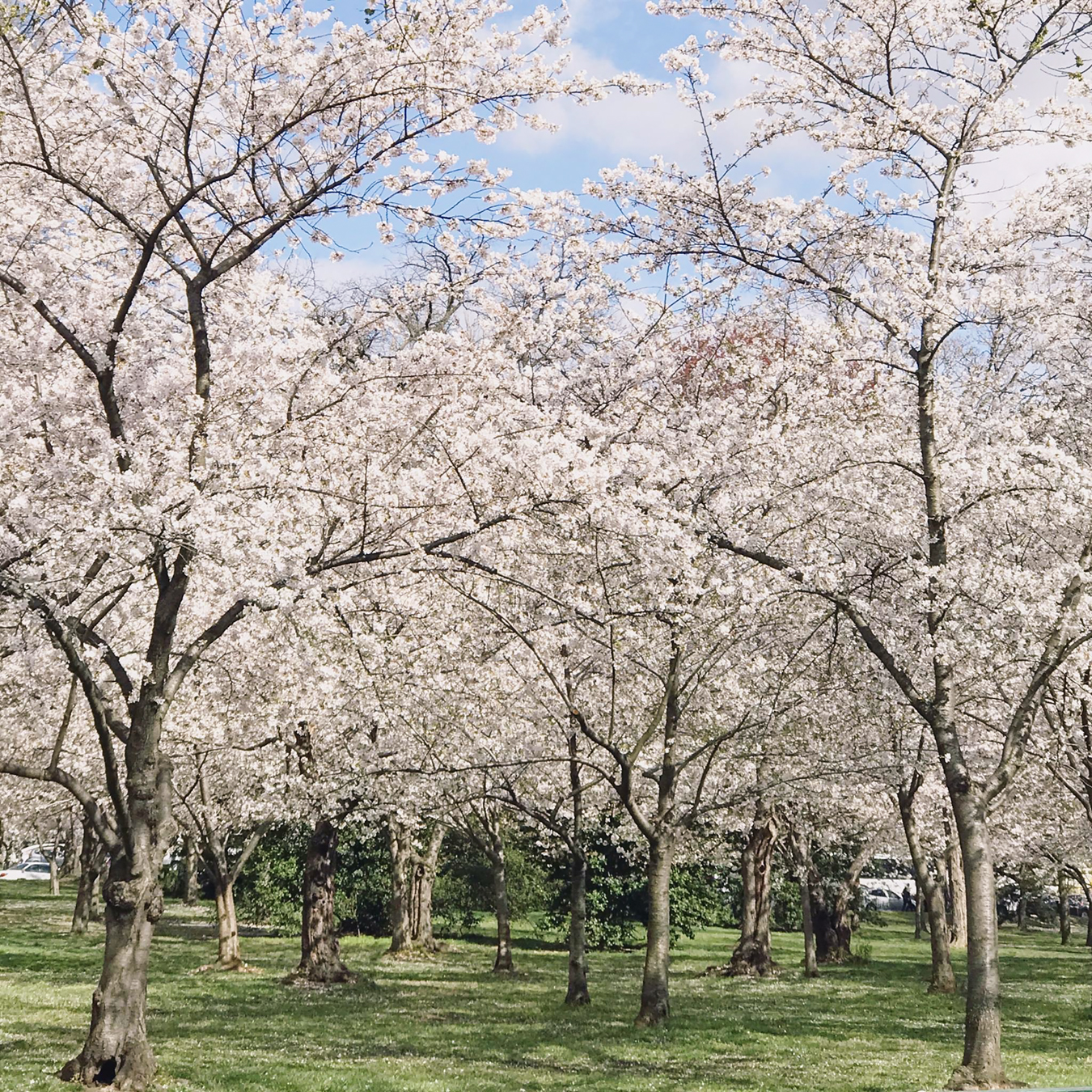 So it turns out, Tuesday afternoons are the perfect time to visit the Cherry Blossoms.. there was hardly anyone there! (Or who knows, maybe it just felt that way after all the lines.. haha). The trees were blooming, we found a food & beer tent.. the day was perfect.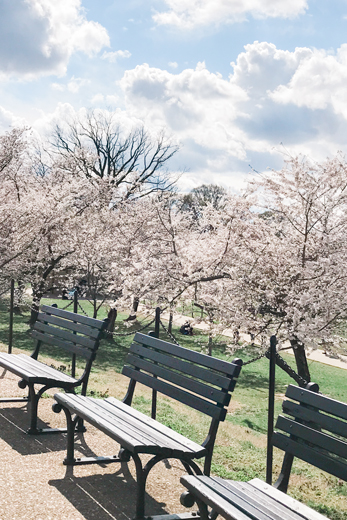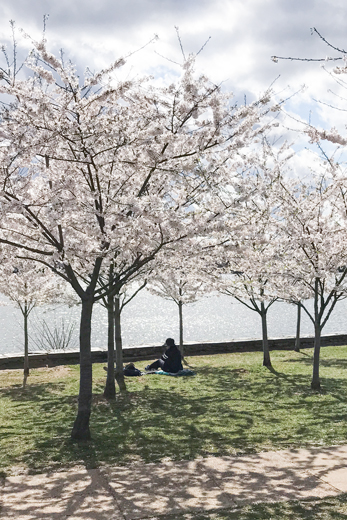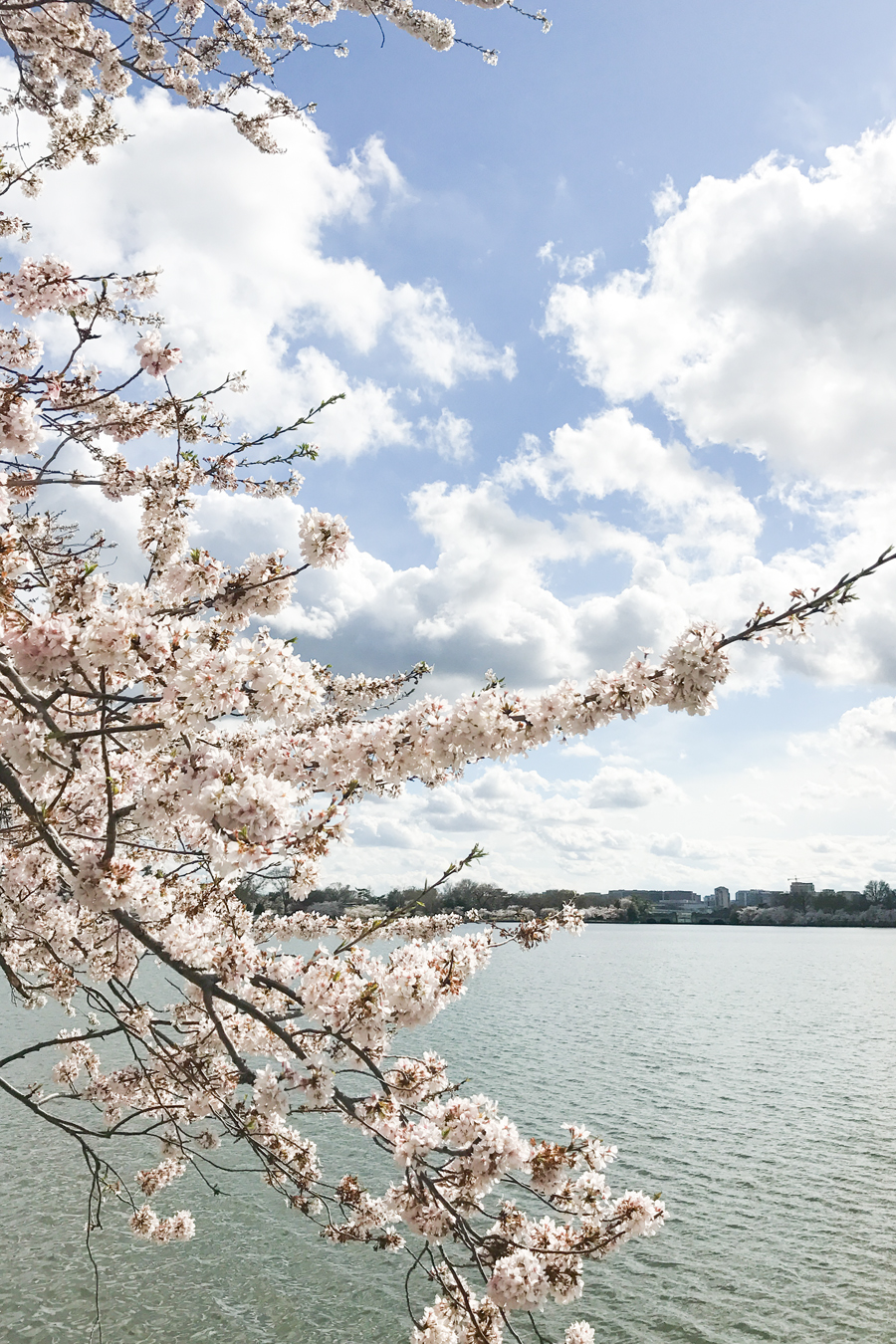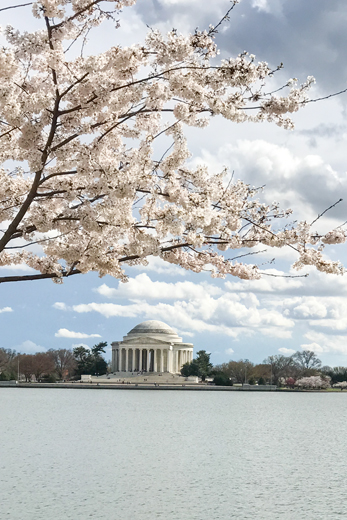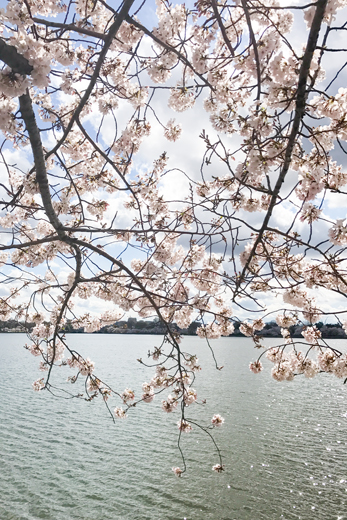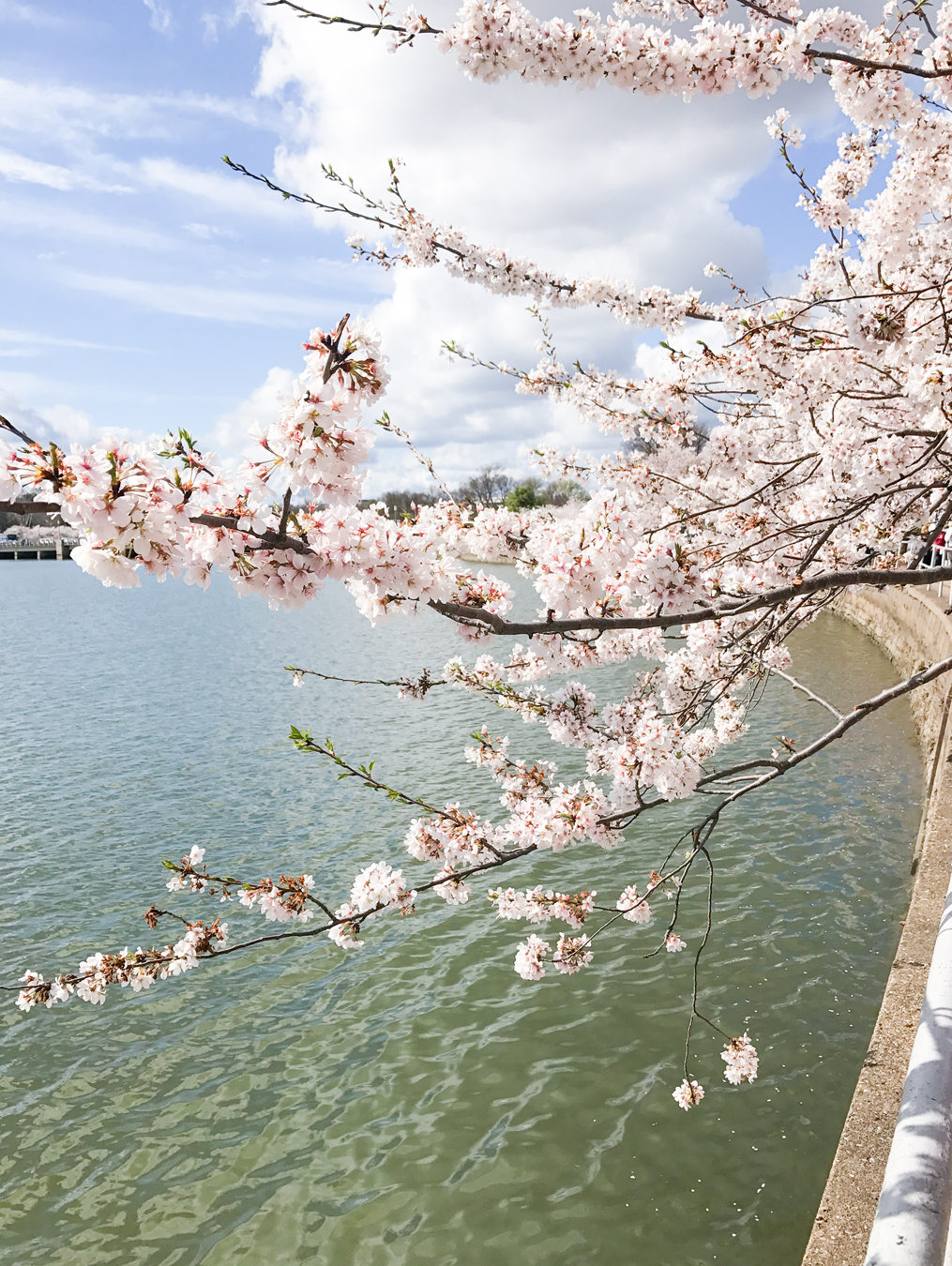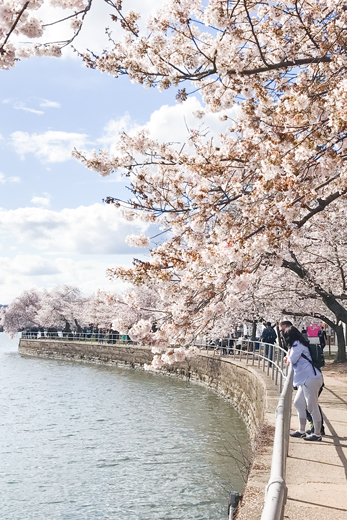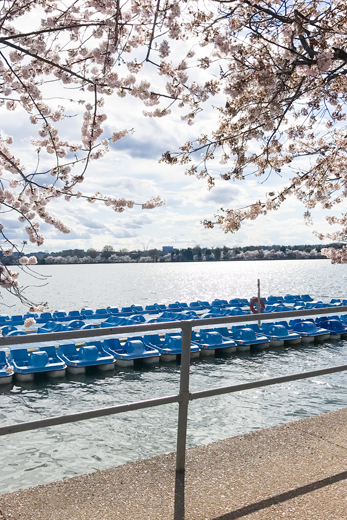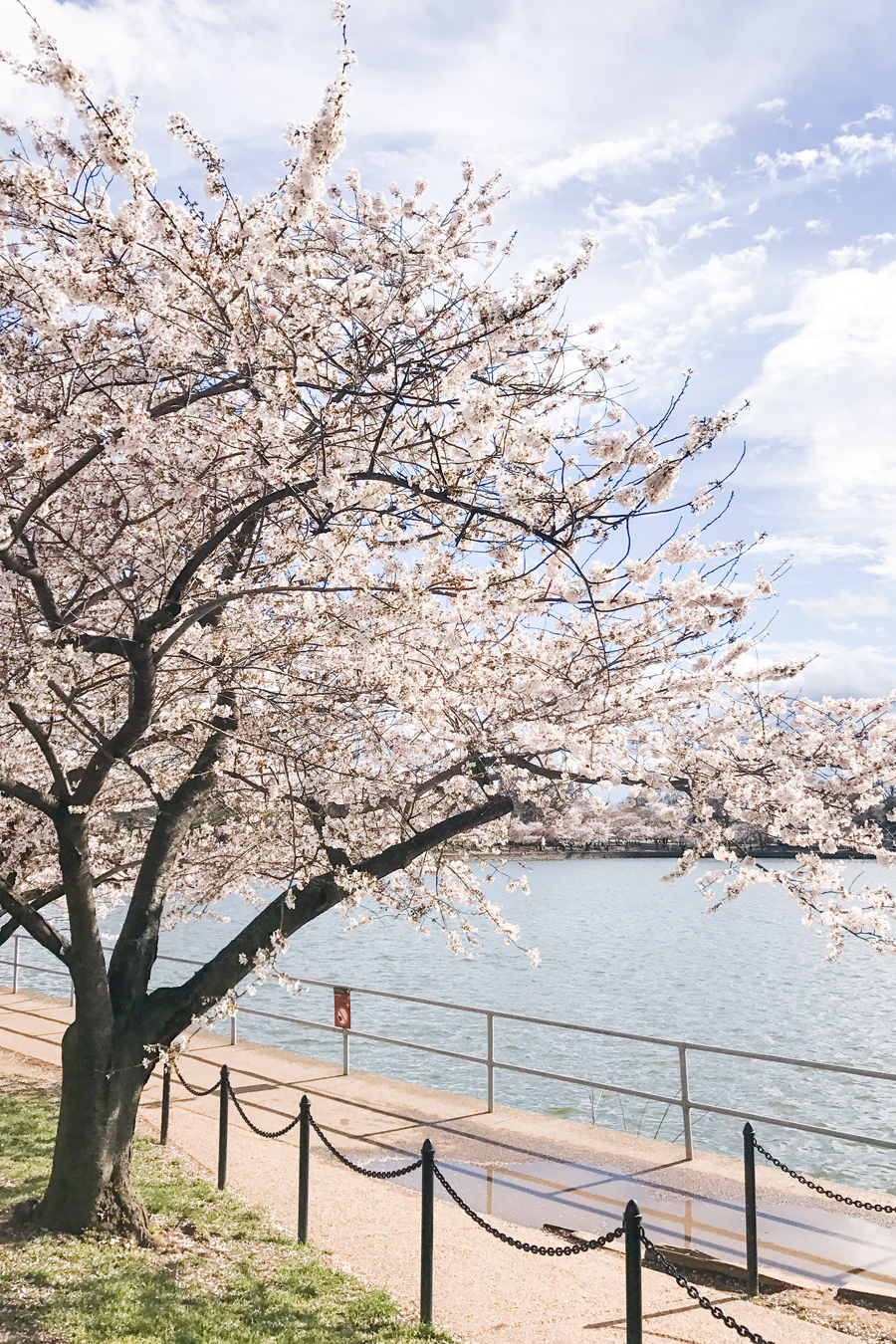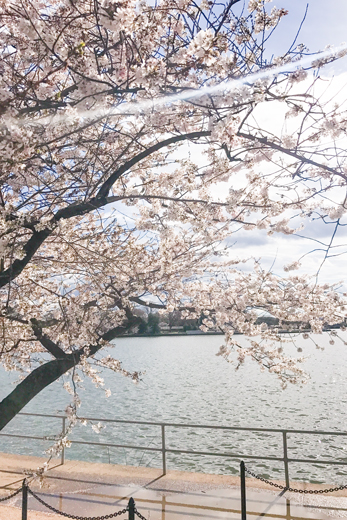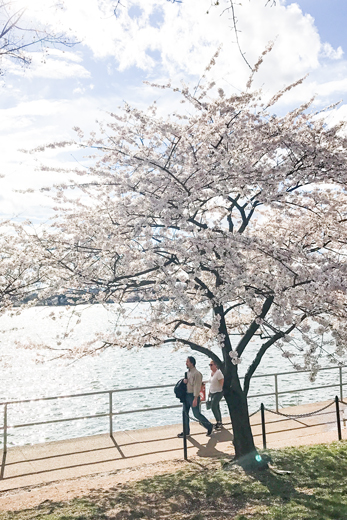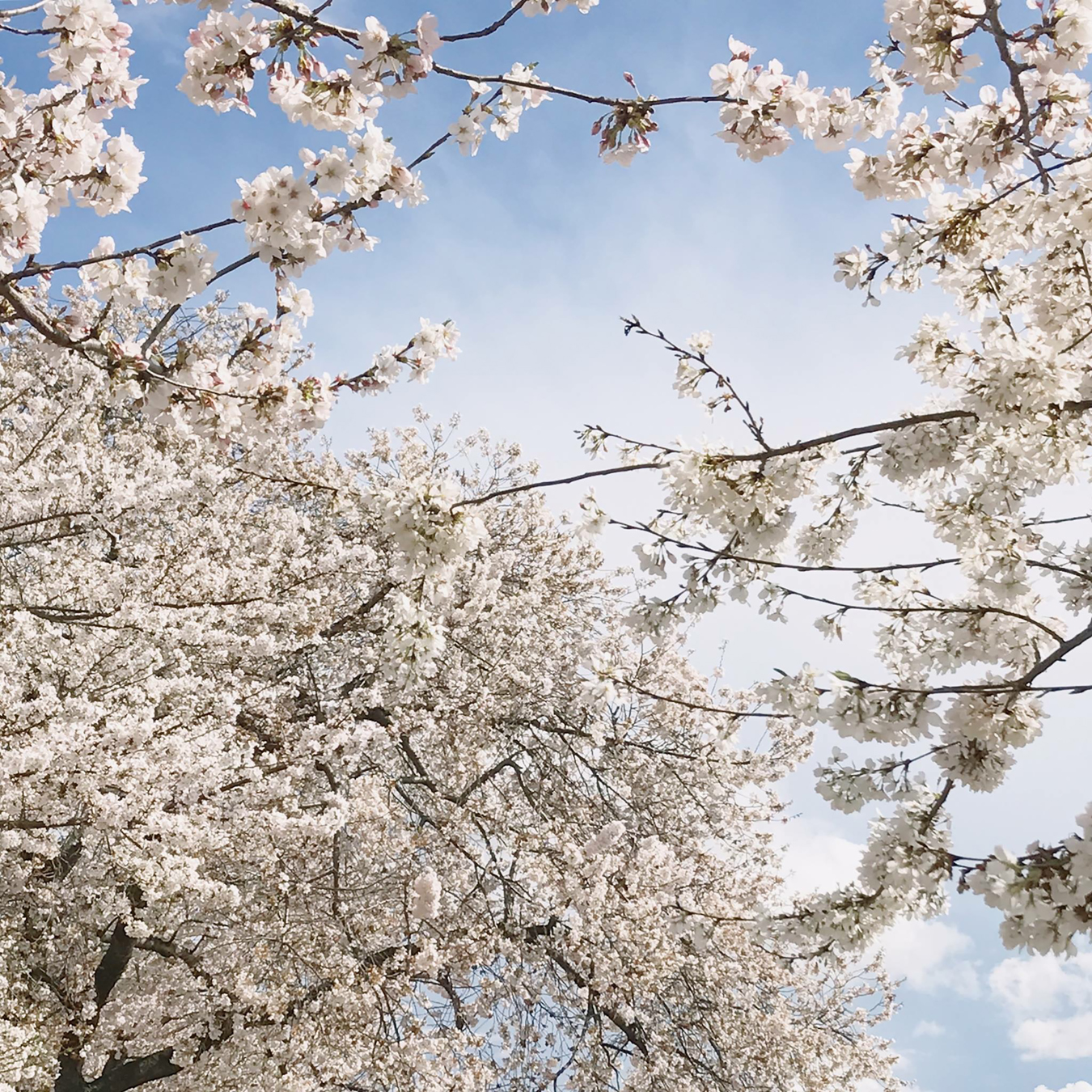 SUCH a good day, and feeling so grateful to live so close to two great cities. If you get a chance to go visit this exhibit, send me a comment and post a photo! I'll love it!!