Chris & Julie's Federal Hill Engagement Session :: Baltimore MD Wedding Photographer
Today I get to share some new favorites! Julie & Chris are so sweet together, very down to earth and great to work with (& I would know since Julie also works at UMBC ;) ) We chose to photograph in Federal Hill, not only because it has a personal connection for Julie & Chris (where they were living when they got engaged!) but it's also filled with lots of great buildings, architecture, and views of the city. I'm a huge sucker for an urban location too, with all the little spaces you can find, so I was really happy when Julie said it was where they wanted to have their session. Granted, when we first planned this session, we were all set for a nice evening shoot, but hey, thanks to busy schedules and predictions of what was basically a monsoon that night, we opted to start in the morning while skies were still clear. And I'm SO happy we did! I love the light in these shots & how cozy Julie & Chris are (I may or may not have told them to close their eyes a few times & take a little nap haha). I had such a fun time taking and editing these! :)

It was so neat to be able to walk over the Chris & Julie's first place in Fed Hill and get some photos there. Also on an especially girly note, I must say that I'm obsessed with your dress Julie!! :)

So many favorites! Love the beautiful morning light & that the two of them could go from cuddling to making each other laugh through the whole session :)

So, sometimes I get really hooked on an idea.. and in this case, it was this parking garage. Okay, actually I just really like photographing on the roofs of parking garages! haha Maybe it's the views and all the great lines, but all I can say is thank you for going along with some of my "unique" ideas! :P
Some facebook teasers & a great location from Julie! Such an awesome courtyard!

Of course, being in Fed hill we couldn't resist some of the amazing spaces at the Visionary Art Museum – love how these turned out :)

To wrap up the session, we headed down to the harbor with just enough time before the clouds rolled in; I love how peaceful it all looks :)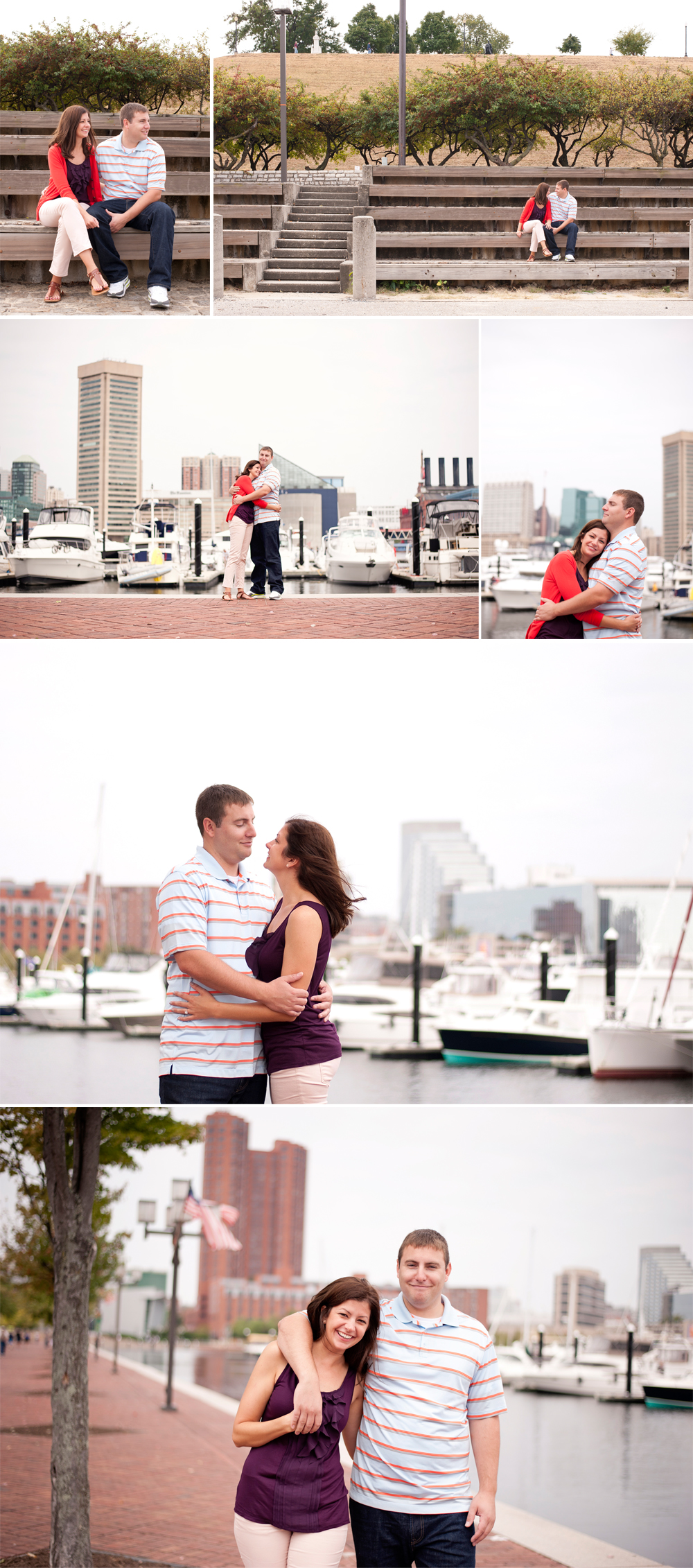 I don't know why, but I love this last shot – so relaxed and happy.
Julie & Chris, I can't thank you enough for being so flexible avoid rain clouds. You two were awesome to hang out with on a Saturday morning in the city! :) I'm so excited to photograph your Erie, PA wedding next summer!