Links I Like! :: 2016 Wedding Trends, Lucky Chops Music, + Catching up with Friends
Wee! It's 2016! I have to keep writing that as much as possible because I'm seriously still putting 2015 on everything accidentally! Well now that we're officially closing out the first full week of January and the new year, I figured I'd get together another compilation of some new links I like! And I'm really pumped about this first one especially for all my 2016 and 2017 brides & grooms!! Check out all the fun stuff I've saved recently and have a fantastic weekend everyone! (Oh and hey! I get to photograph Sharon & George's 30th anniversary, wedding-style, tomorrow! Be sure to stop back here/facebook for sneak peeks soon!
Calling all 2016 and 2017 brides!! You have got to check this out! I know there are tons of new wedding trend links floating around right now, but I REALLY love the trends SMP is predicting for this year! I'll try to just name a few (click through to see the rest of these beautiful looks!):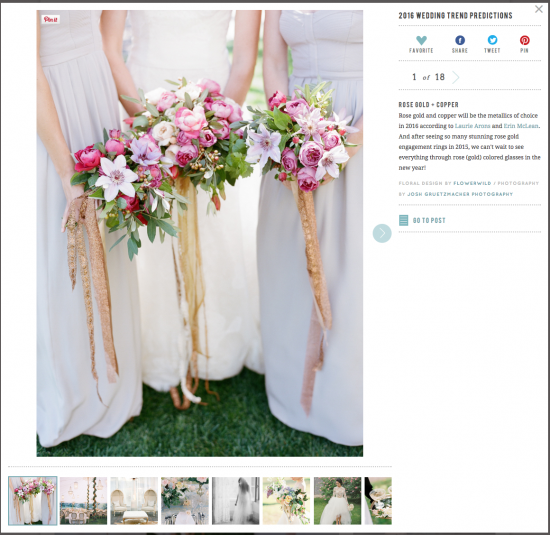 Rose gold?! Yes please. Stunning lighting pieces? Whoa, awesome! Doggy Ring bearers? Doesn't this just remind you of Kristin & Tim's adorable Pollo Pup?!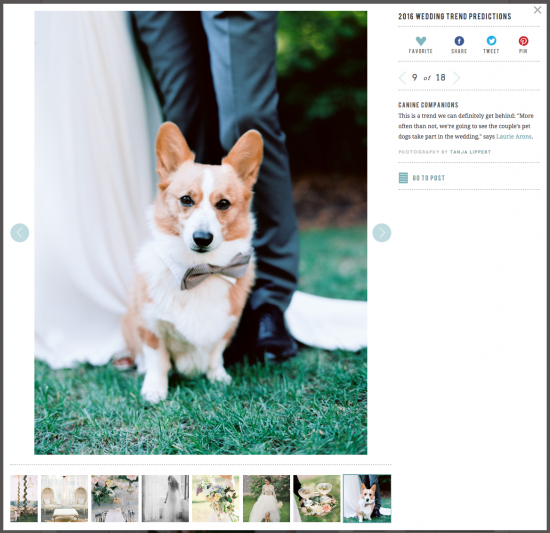 Ooh and intimate weddings! I've noticed this trend growing more in the weddings I've photographed too! Couples are taking a unique approach on how to celebrate with their closest family and friends by either keeping it smaller, or having smaller ceremonies and opening it up for a laid back reception (Layla and Kyle's wedding from the fall was an awesome way to implement this idea and will be blogged soon!). I love seeing what couples do to make the wedding day really special for their guests when they keep it intimate. Plus, elopements can be so relaxing and memorable too. I still really love the time I got to spend photographing Sam & Ben's elopement at Jerusalem Mill, and am so honored to have been a part of their wedding!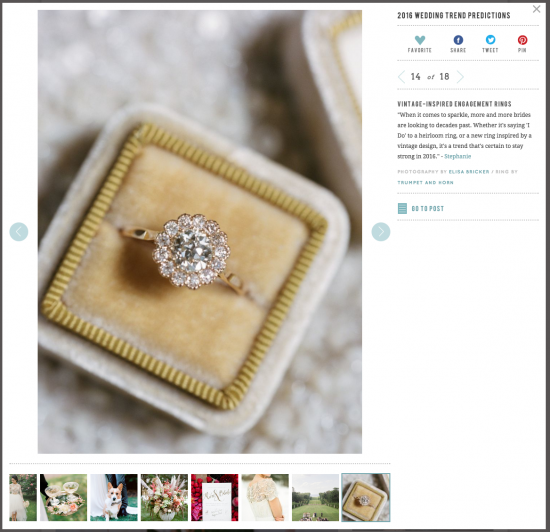 Vintage-style, unique engagement rings? Of course I love that! Okay and how cool is this next idea? Any brides out there thinking of doing your wedding dress a little different? Wedding dress separates, like this top and big tulle skirt combo, could be so much – especially for an intimate wedding too!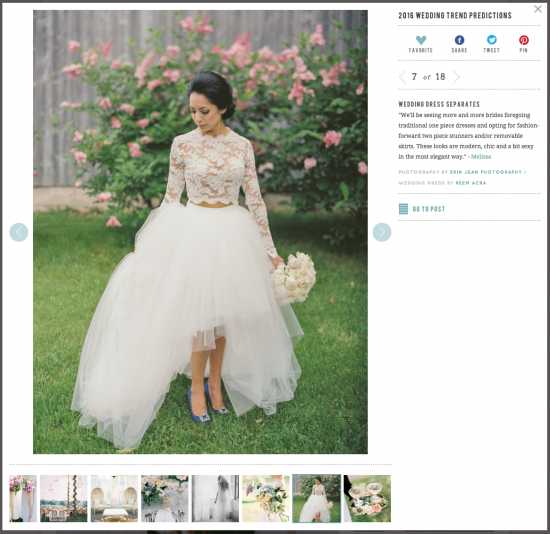 There's SO much to love in this list! It's making me so excited because there's a little seedling of trying to get a styled shoot in the works early this year with my fellow photog-friend Britney! I love these styles and would be ecstatic to work with a planner that could help us pull some of this together!
& As trends go, I've also personally noticed many more of my own couples opting to have some kind of live music at their events, which is so fun! In May, Mary & Alex had a 20-piece band that had the dance floor packed! And just a few weeks ago at Kerry & Tommy's wedding, they had a guitarist for their ceremony and the Rob Levit duo which was the perfect music for their intimate reception! I can't wait to see what my 2016 couples incorporate into their weddings! :)
Speaking of some sweet tunes.. oh my gosh. I hope your ears and eyes are ready for this! This outstanding video made it to me via facebook recently and it makes me want to jump around and dance (although I can 100% guarantee my dance moves are not nearly as cool as this guy's.. AND he's playing a saxophone simultaneously?! WHAT?!) Check out some of the music and videos from Lucky Chops – I can only imagine how awesome it would be to run into these guys in the subway, or anywhere!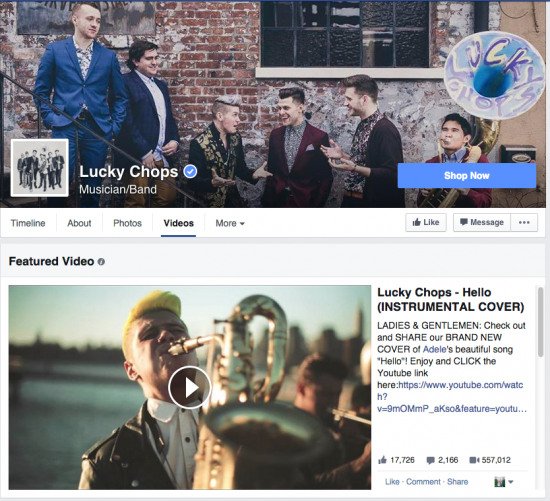 Okay it seems like there's a trend with me lately thinking about friendships right? Maybe it's just the age we're personally at right now, post-college and still trying to keep up with everyone in ways that makes sense. I'm definitely one that loves to get together with people whenever I possibly can (one of the reasons my main New Year's resolution is to be better with time management – so I can spend more time with family and friends throughout the year!) I liked this article offering up some ideas on how to hang out and catch up without always grabbing a coffee or a drink!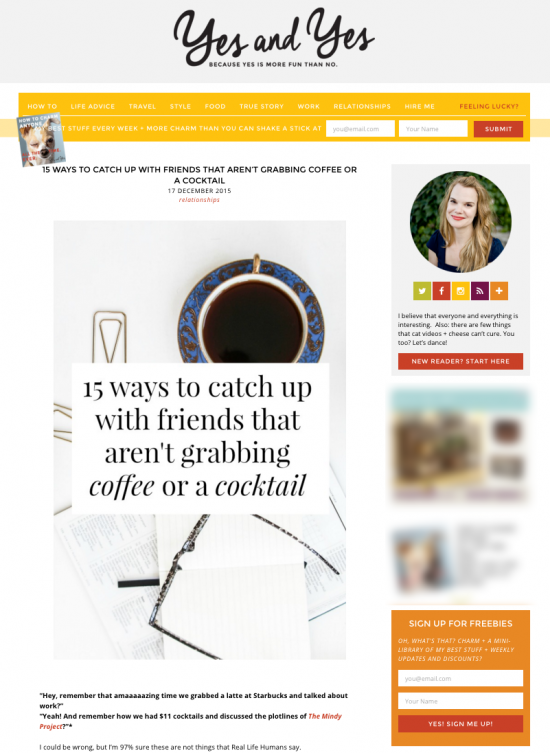 Because  I can't seem to end one of these without a cat somewhere… ;) My friend Candace introduced me to this instagram account and I can't get enough of the fluff! If you love silly cat pics as much as I do, you should totally start following Sky the ragdoll cat! I particularly loved this furball trying to blend in with a shelf of succulents.. all of my favorite things in one! hah!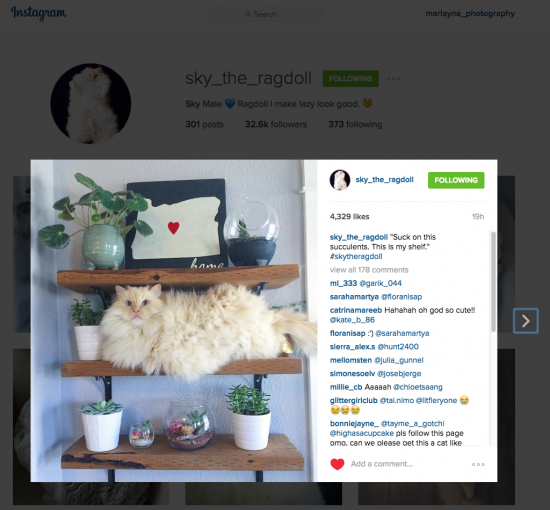 Well, Happy Weekend everyone! Hope you've enjoyed this rendition of internet distractions! And if you want to see other posts in this series too, click here!
All images used in the post are screenshots taken while visiting the linked sites, and credits remain due to the photographers, writers, and account owners listed on those external pages.